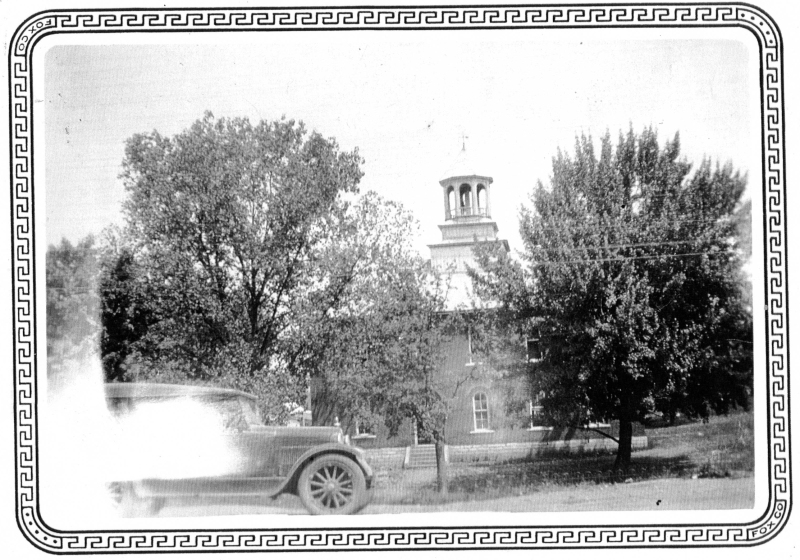 By ROBERT D. BUSH
County Historian
By year's end, 1836, the newly organized Cannon County Court, holding its appointed meetings at the new seat of justice at Woodbury, had moved on several critical issues since its first county wide 'magistrate's meeting' in May.

This initial 'Act' creating the county of Cannon back in January outlined provisions for the formation of a county mostly along the upper east fork of a river called Stones. The name Marshall was first entered into the legislative record as a possible name. However, the name 'Marshall' was crossed out at the last moment before the vote was taken to adopt the measure. The newly elected Whig governor, Newton Cannon was written into the record instead

The General Assembly had named a group of six commissioners to carry out this task of creating a county. Commissioners governing counties early-on in Tennessee's history were appointed by the state legislature. Swathes of land were to be taken from counties of Rutherford, Warren and Smith with two commissioners representing each of these sections.

A constitutional convention had recently been held at Nashville. Some sixty delegates came together from across the state in 1834 to amend Tennessee's 1796 constitution. By 1835 this new constitution had been ratified and adopted This constitutional convention of 1834 certainly reached a milestone in democratic government by having the county's quarterly court as well as other local official elected by popular vote.

One of the major features of this new Tennessee constitution mandated all counties to be subdivided into 'civil' districts. Before, there had only been county militia districts, overseen by 'appointed' militia captains.

This new Tennessee constitution required counties to have 'civil magistrates' or

'justice's of the Peace', to represent each of its civil districts. They would make up a county court that would meet on a regular basis to conduct county business. Each civil district was required to have a 'voting precinct'. Many of these first voting precincts that were established early on became the nucleus from which several communities developed

throughout the county: Some grew to become sizable villages and towns.

The details on how all this would be carried forth fell upon the shoulders of these first commissioners appointed by this General Assembly. It wasn't until this May meeting some jive months later do we see a functioning county court coming together with some twenty six magistrates in attendance - becoming a governing 'entity '- constituting a 'body politic '.

This new court was called to order by Warren county's sheriff Leighton Ferrell. Ferrell had held jurisdiction within very ill-defined county boundaries of a new county since January. After calling the court to order Ferrell relinquished his jurisdiction to Cannon County's first sheriff George Grizzle. The court proceeded to appoint a county surveyor, land entry taker, coroner, county ranger and jailer. The court also appointed other county officials. There was a pressing need for a courthouse and jail.

It is little noted under another provision in this same legislative Act to create this

county was the naming of three men as "special" commissioners. They were to carry out

the 'mind-bending' task of locating a 'seat of Justice' for this new county. Its unclear what other roles they may have played in forming this new county, even more-so, how they interacted with these six original commissioners. Little is known about these earliest proceedings.

It .is as if this General Assembly meeting at Nashville had anticipated a political fight that might develop to stall any attempts to carry out this particular mandate of selecting a county seat. Apparently there had already arisen 'opposition factions ', not only against how the boundaries would be laid out, but to stop the measure altogether.

With the new Tennessee constitution now in force that granted more political

freedom at the local level, the cry went out by some-- primarily those living in the Surplus lands-- their rights as voting citizens in this 'county forming process ' had been denied.

The Genera/Assembly had stipulated the county seat to be within jive miles of the town Danville. This town already had a surveyed town plat, a postal stop, taverns or Inns, dwelling houses, blacksmiths and shopkeepers about the vicinity. The Federal Government had, some years earlier, laid out a post road from McMinnville that was at the time running through Danville to Murfreesborough.

These three special commissioners appointed were not even from .the county of Cannon. George Eliot, a Jacksonian Democrat, lived in Sumner county and had political ties to the recently defeated 'Jackson 'political machine. John S. Russwurm, lived in Williamson county. Jonathan Webster, newly elected speaker of the state senate, lived at Noah near Beechgrove, and was involved in creating the county Coffee. Both of these men were members of the Whig political party that had gained control of Tennessee's government by electing Newton Cannon governor.

Jonathan Webster definitely had the most political clout, and may have been the most vocal in carrying out the general assembly's county seat mandate. It is indeed questionable whether or not all of these first appointed commissioners from within the county had any input in the selection of Cannon county's seat of Justice?

One of the first entries made in the new county's record books was in April of that same year. According to this deed some twenty acres was conveyed to John S. Russman and Jonathan Webster by commissioner James Taylor. Special commissioner George Eliot is not mentioned. James Taylor, one of the original six appointed commissioners· owned land in and around the town of Danville. A twenty acre tract laid just to the west of the original Danville town lots.

A second deed entered into Cannon county's deed book during the following month of May conveyed various town lots to this new seat of Justice. This deed was signed by W Y. Henderson, Nathan Neely, Adam Elrod, Joe Pinkerton, Henry Trott Jr. Abel McBroom, H D. McBroom, Robert Vinson, W M Young, along with Patsy Gannon and Mary Gannon. This deed was signed at about the time this first quarterly court meeting was held. Its unclear if all the above names listed on this second deed supported Danville as a county seat? Its difficult to imagine how they could have opposed it?

These individuals that signed this second deed were given lots on the newly acquired Taylor property or other compensations such as swapping town lots. Those that signed over lots on the second deed, along with the purchase of the adjacent James Taylor property, not only met, it exceeded the stipulated fifty acre requirement mandated by the General Assembly for a county town seat. The stipulated three acres for a town square had been under question, however this requirement had likewise been met.

George Eliot, who was not mentioned in the Taylor deed transaction, may have led the opposition opposing Danville as the county seat. Its also quite possible Eliot had some input in changing the name o/Danville to 'Woodberry or Woodbury' as a compromise measure to appease the Jacksonian Democrats.

It is interesting to note how the Taylor property developed as it became part of the new town of Woodbury. The General Assembly required the county seat to have a town burying ground, as well as grounds where major religious dominations could occupy. The Taylor property also allowed for a new main street to be constructed through the entire town site. The Taylor property also became the site for academies and other institutions for higher learning. The well known Lauren's academy was first established there.

The Methodists and the Baptists did indeed locate congregations on the Taylor. property. Some believed a Methodist log meetinghouse was already there and may have dated to the 1820s. For reasons that is somewhat unclear the 'Christian' congregation never occupied the Taylor site. Some believed it wasn't considered a major domination at the time. However they may very well have had an existing site along some high ground along Water Street.

The Taylor property also became popular meeting places for revivals during the 1830s-1840s. A traveling evangelist once described the Baptist Meetinghouse at Woodbury in a newsletter, as the most popular place for revivals in the town.

It would be some years before a Presbyterian congregation became active in the town. It was never on the Taylor property. It was first located at the corner of Main and Dillon Street. It moved to high street in more recent times. A red building stands there now. This red building, built in the 1950s, was once called Woodbury's Medical building.