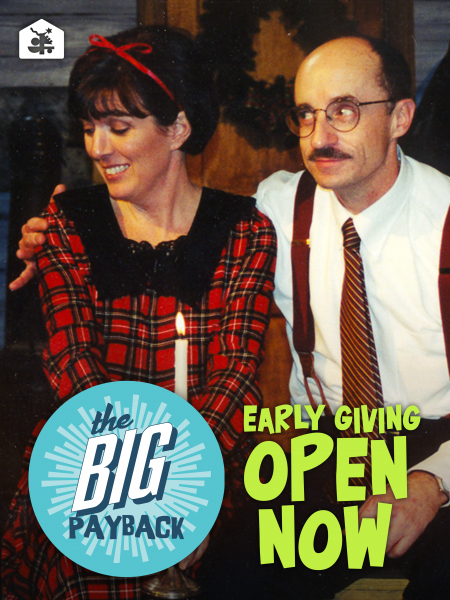 Don't think you can contribute on May 4 & 5? No worries! Early giving has opened for The Big Payback fundraiser. Just visit the link below to give your charitable donation to The Arts Center of Cannon County.
https://www.thebigpayback.org/index.php?section=organizations&action=newDonation_org&fwID=250
The Big Payback is an annual 24-hour, online giving celebration raising money and awareness for more than 1,000 area nonprofits, schools and faith-based organizations.
Since 2014, This event has cumulatively raised more than $25 million, with a total of 180,583 donations from around the globe benefiting Middle Tennessee organizations.
What is The Big Payback?
The Community Foundation of Middle Tennessee's The Big Payback is a 24-hour, online giving event created to increase philanthropy in the 40 counties of Middle Tennessee. The goal is simple - inspire Middle Tennesseans to come together, show their pride in their communities, and contribute to support the life-changing work of local nonprofit organizations.
In its eight-year history, The Big Payback has helped Middle Tennessee's nonprofit community raise more than $25 million dollars for more than 1,000 nonprofits, religious institutions and schools. The spirit of generosity shines bright during this annual giving event.
The Big Payback 2022 will take place from Wednesday, May 4 at 6 p.m. to 6 p.m. on May 5. Donations will be accepted during this 24-hour period through TheBigPayback.org.
Early giving will open one week prior to The Big Payback on April 27 at 6 p.m.. This is a great way to engage with donors who might not be available on May 4-5.
How does it work?
The Community Foundation of Middle Tennessee has partnered with NeonOne to generate online profiles of participating nonprofits at TheBigPayback.org, searchable by organization name, budget size, issue area and/or geographic area.
Through TheBigPayback.org, donations can be made to participants in our 40-county service area starting at 6 p.m. on May 4, and a Leaderboard will display real-time giving tallies to keep our community informed on the gifts received and prizes awarded.
Why give?
Public charities, schools, and religious institutions play an essential role across our region - in health, arts, environment, education and social services.
Donations raised during The Big Payback are a welcome source of additional funds for these groups. We encourage the community to "pay back" local nonprofits during our online giving event - a special occasion to celebrate Middle Tennessee's spirit of generosity.
And finally, gifts made during The Big Payback could be amplified by incentive cash prizes for participating nonprofits. These generous cash prizes are made available by generous sponsors of The Big Payback.