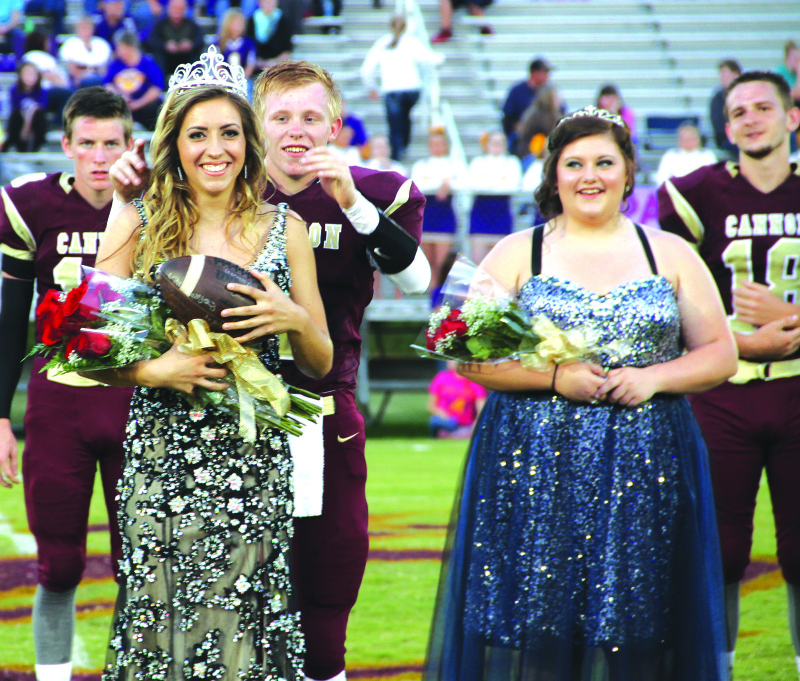 DAVID HUNTER
Cannon Courier
Homecoming 2015 was very different than Homecomings of the past Friday night at Fred Schwartz Field, when an active player on the Lions' football team was also crowned Homecoming Queen. Kicker Livia Walker kicked an extra point at the end of the Lions' initial drive, and was later crowned Homecoming Queen during the half-time festivities during their game against the Dragons of York Institute.
York took advantage on their first possession of the game as the kickoff was returned 71 yards to the CCHS 8. However personal fouls were called against both teams placing the ball back to the CCHS 23.
Three plays later, York got on the board with a seven-yard touchdown run with less than 60 seconds off the clock taking a 6 to 0 lead as the extra point attempt failed.
The Lions again started strong on their initial possession as they drove 78 yards featuring strong runs from Austin Brock, and a 38 yard completion from Brady Page to Jeremy Litchford to the York 21.
Two plays later, from the Dragons' 2 yard line Brock punched it into the end zone to knot the score at six with 7:34 left in the first quarter. Livia Walker added the extra point giving the Lions a 7 to 6 lead with the possession lasting eight plays and ticking 3:34 off the clock.
However it was all Dragons during the rest of the contest as they scored 42 unanswered points to put away the Lions. The rout started with a seven-yard touchdown run with 5:52 left in the opening quarter and a two-point conversion to take a 14-7 advantage.
York scored four touchdowns in the second quarter alone as they took full advantage of two CCHS miscues and an 11-yard punt. The opening half ended when a Page pass attempt was picked off at the York 15 and returned 75 yards for a touchdown making the score 42-7 at the break.
The 'Mercy Rule' was instituted at the start of the second half creating a 'running clock' where the clock is not stopped except in limited circumstances. After this the Dragons added only one second half touchdown to make the final score 49-7.
Due to an injury to Page, Reece Smith took over the quarterback duties in the second half while Brock also got some time behind center in the "Wildcat" formation.
Brock finished the game with 113 rushing yards, while on defense Bo Bryson had nine tackles to lead the Lions with Pearson Hughes adding five defensive stops.
York picks up its first win of the year to go to 1-4, while CCHS drops to 0-5 on the season. The Lions host Upperman on Sept. 24 at Fred Schwartz Field.