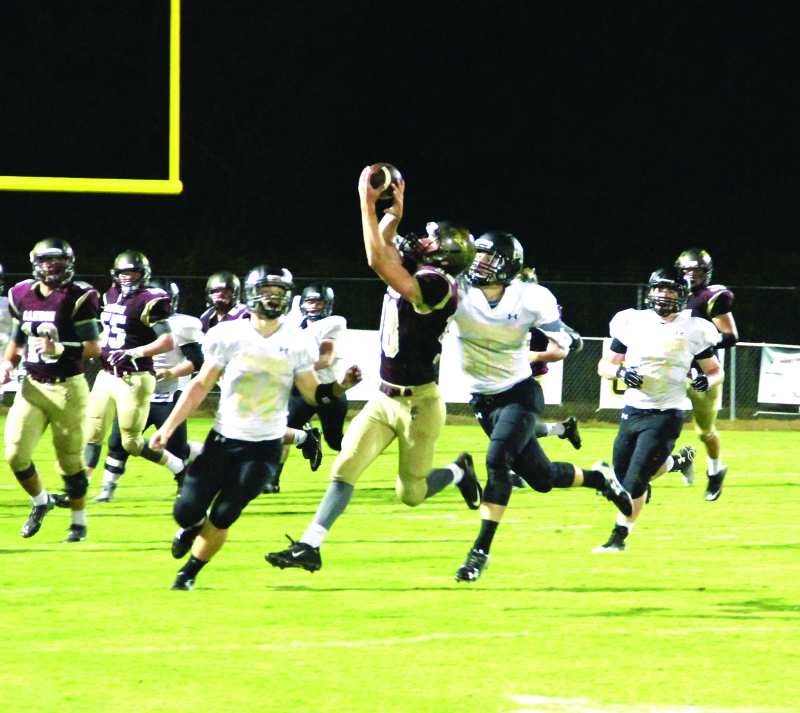 DAVID HUNTER
Cannon Courier
Although another valiant effort was given by the Cannon County High School football team they ran into a buzz saw by the Upperman Bees on Sep. 26 at Fred Schwartz Field. The Lions dropped to 0-6 on the season with a 70-12 loss.
The Lions fell behind early after given up two turnovers on their first two offensive possessions. An interception by quarterback Brady Page on their first possession did not result and any score but after the change of possession the fumble by Maika Fonoti resulted in the Bees converting the miscue on their first play into a 29 yard touchdown pass to go up 7-0 halfway through the first quarter.
The turnover bug continued on the Lions' next offensive series as Page fumbled in his own end zone, and the Bees pounced on the ball for another touchdown to go up 13-0 before missing the extra point attempt with 4:42 left in the opening quarter.
The Lions finally got on the scoreboard when Page found Jeremy Litchford down the sideline and racing 64 yards for the score. Placekicker Livia Walker missed the game because of an injury, so CCHS went for two, but failed to convert leaving the Lions trailing only13-6 with 3:34 left in the first quarter.
However, that would be the closest the Lions would get during the game as the Bees added another score two minutes later on a 32-yard touchdown catch over two CCHS defenders to make the score 20-6 late in the first quarter.
After a CCHS punt, the Bees reached into the magic box for a trick play and pulled out a perfectly executed flea flicker resulting in a 63 yard touchdown to increase their lead to 28-6 early in the second quarter.
UHS again scored after another Page interception on a quarterback keeper with 3:42 left in the opening half to make the score 35-6.
Page, showing a never give up determination, two plays into their possession found Litchford on a beautifully executed rollout pass play finding Litchford who buzzed past the Bee defenders for the 81-yard touchdown with 2:38 left in the first half. On the two-point conversion, Austin Brock had the catch, but he was hit hard by a UHS defender jarring the ball loose and preventing the two point conversion with the score now 35-12.
Before the halftime break, the Bees put the game away by adding two more touchdowns before the end of the first half increasing their lead to 49-12.
Because of the 37 point lead, the second half was played under a continuous running clock (Mercy Rule), and the Bees added three more touchdowns to end all scoring.
CCHS travels to Smith County on Oct. 2 still looking for the season's first win its second win against the Owls in two seasons.