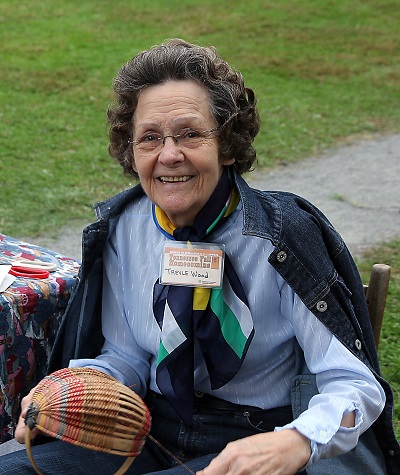 Trevle Wood, age 89, of Sylva, NC, formerly of Woodbury, TN, passed away on Friday, January 31, 2020, surrounded by her loving family. She was the wife of the late Alvin Wood and the daughter of the late Ernest and Gertie Haley.
Trevle was a faithful member of the Woodland Church of Christ in Sylva, NC. She practiced as a nurse for 16 years. Trevle was nationally and internationally recognized as a white oak basket maker, with her baskets being displayed in the Smithsonian, Washington, DC, and the Frist Museum in Nashville, TN. She demonstrated and taught white oak basket making at many locations, including the John Campbell School in Brasstown, NC, and the Arrowmont School in Gatlinburg, TN, as well as in Paris, France. She also had a great love for gardening.
Trevle cared deeply for the Lord and her family and friends. She was much loved and will be greatly missed
In addition to her husband and her parents, she was preceded in death by one daughter, Jennifer Steger.
Trevle is survived by two daughters, Kathy (Dennis) Gulledge and Beth (Ronald) Cox; eleven grandchildren, Casey (Lee) Ellis, Amanda Carmichael, Weston Steger, Bethany Davis, Emily (James) Turner, Jessica (John) Boyd, David (Crystin) Gulledge, Breanna (Caleb) Bynum, Jon Paul Gulledge, Evan Cox, Eric Cox; and 18 great-grandchildren. She is also survived by two sisters, Martha Vance, Joyce Tyner; one brother, Billy Haley; and several nieces and nephews.
The family will receive friends on Monday, February 3, 2020, 5 pm at the Woodland Church of Christ, 146 Weldon Hall Road, Sylva, NC. The funeral will follow at 6 pm. The graveside service will be held on Tuesday, February 4, 2020, 2 pm at the Leoni Church of Christ Cemetery in Woodbury, TN.
The family requests that memorial donations be made in Trevle Wood's memory to:
Apologetics Press
230 Landmark Drive
Montgomery, AL 36117-2752
An online registry is available at: www.appalachianfuneralservices.com
Appalachian Funeral Services of Sylva, NC is serving the family.
Woodbury Funeral Home of Woodbury, TN is serving the family locally.