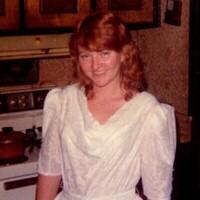 Mrs. June Johnson, 60, of Bradyville passed away on March 6, 2021. She was born in Cannon County on November 17, 1960. She was preceded in death by her parents, Daniel Taylor Burks and Inis Mae Mathis Burks, her brother, Lanis Burks and by her sister and brother-in-law, Sue and Randall Burks.
She is survived by her husband, Donald Johnson, son, David (Teri Slate) Johnson of Bradyville, daughters, Myra Johnson of Bradyville and Maggie (Chris) Stone of Woodbury, a brother, Glenn Burks of Texas, grandchildren, Donald James Johnson, Tucker, Gunner, and Hunter Stone, nieces and nephews, Shirley Davenport, Josie McCormick, Danny, Lanny, Mack, and Kenny Burks.
Mrs. June learned the importance of family looking out for one another at an early age. Her mother taught her how to make white oak baskets and when her mother began losing her sight June left school to help her at home. She would often drive family, friends, and neighbors to appointments or to do errands. She met Donald when she was 12 years old. He waited on her to be old enough to start dating and married her soon after. They had recently celebrated 42 years of marriage. Fun loving, plain spoken, and a loving wife, mother, and grandmother. She often had a funny story or a piece of advice for her family and friends. You would seldom see her without one or many of her family. She would often help Donald on HVAC jobs he was working on. She had a love of the Lord and the Bible. She was baptized in the creek near Sunny Slope Church of Christ. She and Donald were members at Victory In Jesus Church at Living Springs for nearly 30 years.
Visitation will be held at Smith Funeral Home on Monday, March 8, 2021 from 4-8 pm. Funeral services will be Tuesday, March 9, 2021 at 2 pm in the Smith Funeral Home chapel. Sydney Parham will officiate. Interment will be in Cherry Cemetery. In lieu of flowers donations may be given to assist with expenses. Share memories and condolences at www.smithfuneralhomewoodbury.net Smith Funeral Home, 303 Murfreesboro Rd. Woodbury, TN 37190, 615-563-5337