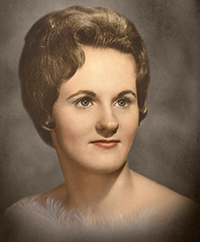 Jonell Bratcher, age 71 of Woodbury, passed away Wednesday morning, September 5, 2018 at her residence.
She was born October 29, 1946 to her parents, the late Frank Brown and Betty Sue Hale Sullens.
In addition to her parents, she was preceded in death by her husband, J.M. Bratcher; 1 brother, Frank Sullens.
She was a member of the Blues Hill Church of Christ and a retired factory worker.
Jonell leaves to cherish her memory, 2 sons, Jason and Joel Bratcher both of Woodbury; step-son, Barry (Regina) Bratcher of Germany; 3 grandchildren, Aaron Bratcher, Jacob Bratcher and Vanessa Bratcher; 2 sisters, Peggy (Donnie) Scott of McMinnville and Regina (Pete) Saddler of Detroit, MI; 2 nieces and 2 nephews.
Funeral services will be conducted 1:PM Saturday, September 8, 2018 at DeKalb Funeral Chapel with Bro. Rannie Phillips officiating and burial will follow at Gunter-Grizzle Cemetery.
Visitation with the family will be on Friday 1:PM until 8:PM and Saturday 10:AM until the time of the service at 1:PM. DeKalb Funeral Chapel is in charge of the arrangements.
Pallbearers: Aaron Bratcher, Jacob Bratcher, Ronnie Smith, Jeff Keaton, Wayne Woods, Brian Scott