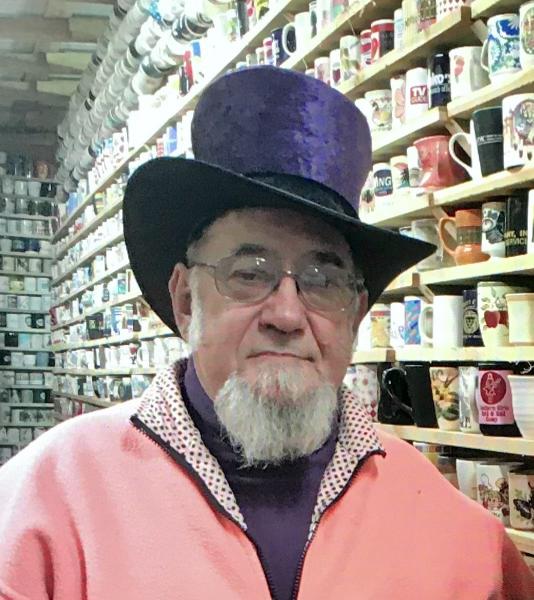 Ivra "Charlie" Fouts, known across Tennessee as the "Mug Man", passed away peacefully at home on April 9, 2021, at the age of 78. He leaves behind a loving family and... more than 40,000 mugs! He will be remembered for his appearance on Tennessee Crossroads (See YouTube, Mug Collector Charlie Fouts, March 21, 2019), where he proudly displayed his mug museum, and for driving around town in his purple truck named "Plum Crazy". Those who knew him well, will miss his spunky, talkative, quirky, and colorful personality. He was truly an original!
Charlie was born on December 10, 1942 and was raised on a dairy farm in Litchfield, Illinois. In November of 1958, he married the love of his life, Kathleen Rawn, and settled north of Chicago, where he worked as a machinist and raised his children. In 1994, Charlie and Kathleen moved to Woodbury, TN where they always lived on land with a big barn for Charlie's workshop or later, his mug museum. He spent many happy years, before and after retirement, working on his farm, gardening, mowing grass, planting trees, and raising goats. He was also a member of the local goat association for several years. In addition to collecting mugs, he enjoyed going to auctions and engaging in creative pursuits, such as making furniture and candles. Hardworking and energetic, he was always on the move!
Charlie was preceded in death by his parents, Charles William Fouts and Lena Jackson Fouts; siblings, Charles "Pat" Fouts and Louis Fouts; and son, Timothy "Chad" Fouts. He is survived by his loving wife, Kathleen Rawn Fouts; sister, Ruth List; children, Katherine Knowles, Aaron Fouts (Angela), Jennifer Bean, Michelle Bugiel (Jeff); grandchildren, Troy Gasser, Joseph Gasser, Brandon Bugiel, Megan Bugiel, Lukas Fouts, and Olivia Bean; many great-grandchildren; and a host of nieces, nephews, and friends.
The family will have a private service, but deeply appreciates the love and support that they have received during this difficult time.