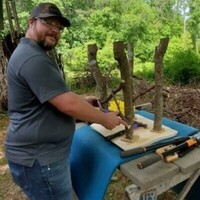 Derek Wayne Vance was here.
We will have to check Auburn Elementary to be sure, but as far as I know he didn't scrawl these words on his school desk. This simple fact remains, Derek was here.
He was very much here on Jan. 30, 1984 when David Wayne Vance and Jane Marie Vance welcomed him into the world. He was here when they watched him learn to walk, and talk, and ride bicycle. He was here when his little brother, Sean, and his little sister, Katie, needed someone to look up to. He was here for all those family trips to the Vance Homestead and to watch NASCAR races with his family.
Derek was at school that day in 6th grade when Heather moved to Auburntown. He was already a part of the community and he welcomed her into it. Derek was here when Heather needed her friend in 2004. He was here (and stayed!) when Heather's little boy, Reece, peed on the seat of his red 1991 Mustang Foxbody. He was at the church in 2007 when they promised to love each other and build a life together. He was here when he accepted Reece in his heart as his son and for the births of Josie in 2008, Daniel in 2010, and Catherine in 2016. He was here for hugs. He was here for ball games. He was here as he taught all 4 of his children and his wife to play table top games. Derek was here for his family - he loved them more than life itself.
Derek was here only a short time. All of us: his family, his many friends, his coworkers carry with us pieces of him. These memories, stories, and photographs are a testimony to two facts. Derek Vance was here. He mattered. Derek started his next journey on 7:35PM, 29 Sept. 2021
Derek is survived by his wife, Heather Haney Vance; his children, Reece Parker Cope, Josephine Rose Vance, Daniel Wayne Vance an Catherine Mae Vance all of Brush Creek; his father, David Wayne Vance; brother, Sean Nicholas Vance and sister, Katie Marie Vance all of Auburntown; father and mother-in-law, Roy Dirk Haney and Christine Faye Haney of Liberty. He was preceded in death by his mother, Jane Marie Waggoner. Funeral services 2 p.m. Sunday, Oct. 3, 2021 at Hunter Funeral Home with Bro. Perry Whitaker officiating. Visitation 2-8 p.m. Saturday and 10 a.m. till service time on Sunday.