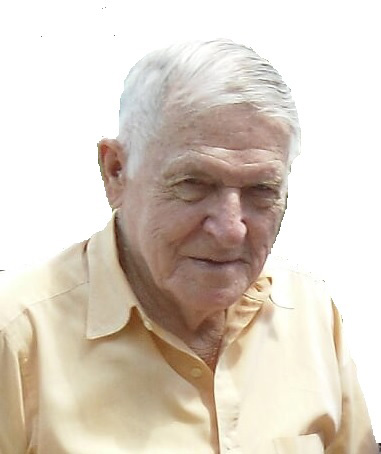 Curtis Eugene Fort was born in Olive Branch, MS on October 30, 1927, to Joseph and Willie Mae (Mason) Fort and passed away at home on October 14, 2015 at the age of 87 following a protracted illness. He was preceded in death by his wife: Betty Lorraine (Davis) Fort; his sons: Curtis Eugene, Jr., and Steven Davis Fort; and his siblings: Claude, Mason, James and Hubert Fort, Mary Lee (Fort) Gross and Sarah (Fort) Young. He is survived by his daughter and her husband, Susan R. (Fort) and Jim Pearson of Woodbury, TN; his grandson, Joshua Pearson; his granddaughter and her husband, Hannah (Pearson) and Christopher Goebel; and five great-grandchildren: Savannah, Addisyn and Teagan Pearson and Mackenzie and Jackson Goebel.
Curtis, a WWII veteran, enlisted in the US Army on November 5, 1945 and served 29 months with the US Zone Constabulary in Germany. After his military service, Curtis served as an officer with the Memphis Police Department for three years before beginning a 26 year career with E.H. Crump & Co. He rose to become the Credit Manager and Assistant Vice President of the company, and President of the Memphis Association of Credit Executives. After Curtis' retirement from Crump, he went to work for himself and operated his own wood shop to cater to antique dealers while serving actively in Central Church and in the American Legion.
In 2010, Curtis moved to Woodbury, TN to live near his surviving children. Curtis joined Plainview Baptist Church and then moved his membership to First Baptist Church in Woodbury, TN.
Visitation for Curtis' family and friends in Woodbury, TN is scheduled for Friday, October 16, 2015 at Smith Funeral Home from 4:00 to 6:00 PM. Visitation for his family and friends in Memphis is scheduled for 1:30 to 2:30 PM for Saturday, October 17, 2015 at the Chapel of Central Church, Collierville, TN. Funeral services will begin at 2:30 PM at the same location. Interment will be in Emory Cemetery near Byhalia, MS. The family requests donations to Central Church in lieu of flowers. Share condolences and memories with the family at www.smithfuneralhomewoodbury.net Smith Funeral Home (615)563-5337