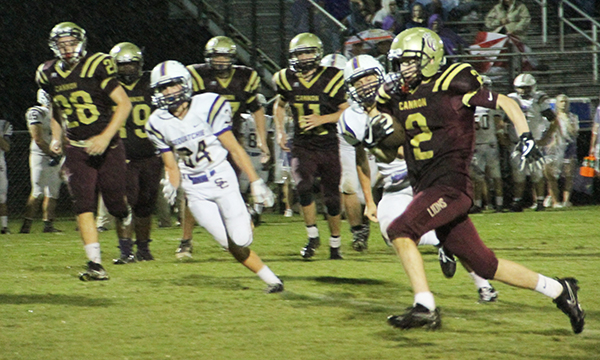 While Middle Tennessee experienced the effects of Tropical Depression Storm Harvey Thursday night, it was one Adrin Jackson that brought a storm of his own for the Sequatchie County Indians as they beat the Cannon County Lions 48-6 in Woodbury.
With the rain starting right at kickoff, Jackson found the end zone three times, carrying the ball a total of 14 times and collecting 100 yards.

Sequatchie County did not look like they were effected by the adverse weather conditions in the very least. Their very first possession resulted in a touchdown after a 6-play drive that took a little over two minutes to engineer.

Out of six offensive possessions in the first half, the Indians scored on five of them, to push the lead to 35-0 at halftime. The Lions only managed two first downs in the opening two quarters.

The second half would start with Sequatchie County putting the stamp on the victory as Cameron Weaver returned the third quarter opening kickoff 74 yards for a touchdown to go up 42-0 as the clock constantly ran due to the mercy rule.

The Lions would score their only touchdown on the next series of plays as Cort Litchford would run it in for a score from four yards out.

Michael Lockhart set up the score as he bolted for Cannon's longest run of the night with a 25 yard scamper to the 4 yard line.

The Indians would add the last score of the evening in the fourth quarter.

The Lions will now be participating in all the activities that go along with Homecoming as on Friday they will play their third consecutive home game of the year, welcoming Moore County as their homecoming opponent to Fred Schwartz Field.

Kickoff for the Friday night game will be at 7:00.