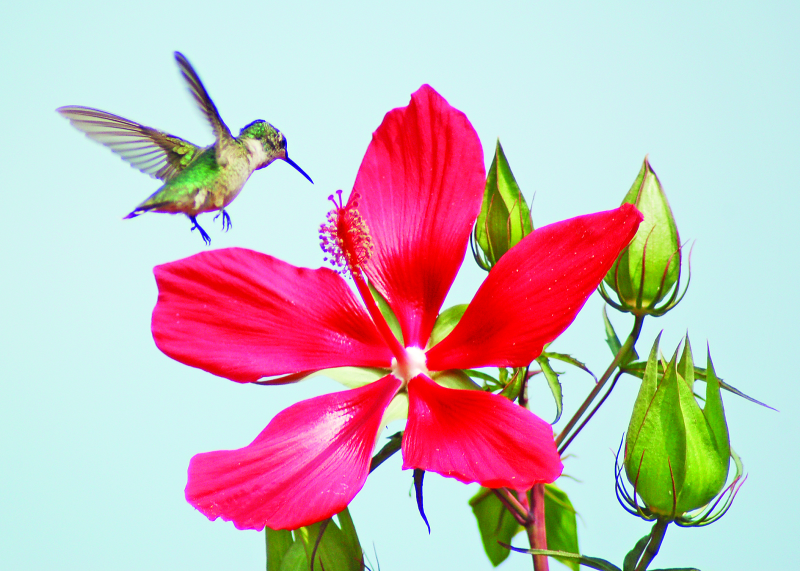 By DAN WHITTLE
When friend Cindy Haley Odle's buttercups bloom each Spring, Pat and I get excited.

Mother Nature tells us when buttercups first pop up out of the ground, it won't be long before our loyal backyard family of blue birds will soon be courting, mating and giving birth to the next generation of baby blues.

Do birds of a feather always flock together?

Like some politicians, the answer is: Yes and no, sometimes, but not always.

Robins are territorial, for example, staking out as much as an acre when tending to new hatched birds. When nesting is over, the parents go back into the flock of neighborhood robins.

I love spring time mornings when Pat and I sit on the back porch watching feisty blue bird parents which are extremely territorial when nesting.

We've witnessed the courage and devotion of Poppa Blue while taking on much bigger bird intruders that get too close to our backyard, city-slicker, humdinger Cadillac-version of a bird house. Poppa Blue's love for his bird family makes our outdoor robust breakfasts taste much better.

I've thought some humans would do well by witnessing the strong parenting actions of Momma and Poppa Blue Bird. It's up to Momma Blue to do most of the nest assembling.

But, Poppa gets the courtship flying each spring by strutting and flapping his royal blue wings excessively while taking nesting materials in, and then out of the bird box, over and over until Momma Blue decides he's her man. Have you noticed most "males" of a species love to strut?

While Momma Blue does most of the setting on subsequent bird eggs, Poppa Blue is busy not only in protecting their nesting site, he also helps with nourishment for Momma.

This brings me to an interesting aspect of blue birds. I've been told that the first brood of baby blues, often stick around and help feed and nurture the next cycle of baby birds. And, they may be the only bird species that do that. If someone knows this as fact, I'd appreciate knowing it too.

When their bird eggs hatch, it's off to the races for both parents as they continuously search for worms and insects, while zipping and diving close to the ground.

How attached do blue birds come to their admiring humans?

I was shaving one morning when I heard Pat hollering with glee on the back porch.

"One of the Baby Blues just flew up here on the porch within a foot of me, and sat and watched me for more than a minute, I guess to check me out," Pat explain-ed.

I imme-diately wished I been there with my trusty Nikon.

I love taking pictures of birds. Sometimes I'm asked how to start taking pictures of wild life: "Get out there. And keep your camera close by."

Being "out there" is my church away from church.

Picturing blurry-fast-moving hummingbirds can be a real challenge.

I'll not likely "top" my hummingbird picture in flight, while I sat and chatted one morning with late great friend, Sir John Stuart, in his backyard sanctuary for birds and flowers. Being a country boy, John loved all aspects of Mother Nature.

There again, I was "out there" and "had my camera in hand."

I was in the right place at the right time when my trusty 55-300 zoom lens captured the hummingbird, as it sized up a bright red Texas-sized flower for nectar.

The lens did the job, completely "stopping in motion" the hummer's wings, plus showing the little bird's teeny-tiny toe nails in detail. If I ever do a wild life pictorial book or calendar, Mighty Mr. Hummingbird will likely be featured on the front cover.

Moving up to Maine, where pal Kent Syler has a rental cottage right on the ocean at Prospect Fishing Harbor. Before arriving at the cottage, Kent bragged he had chickadees that often eat seeds out of his hand.

Since Kent is one of my dedicated deadly effective joke-pulling nemesis buddies, I was weary when he told me to chant over out in the backyard overlooking the ocean: "Here chickadee, dee, dee, dee."

Although I was suspicious of a possible new prank, I stationed Pat nearby with camera. Sure enough, no sooner I began chanting "Chickadee, dee, dee" here came a beautiful little chickadee landing on my hand. The bird would consume a seed, look up at me, and then take another seed.

One grandchild, after hearing my tale and seeing the chickadee picture, christened Pappy Dan as our family's official Bird Whisperer, which caused me to chirp with happiness.