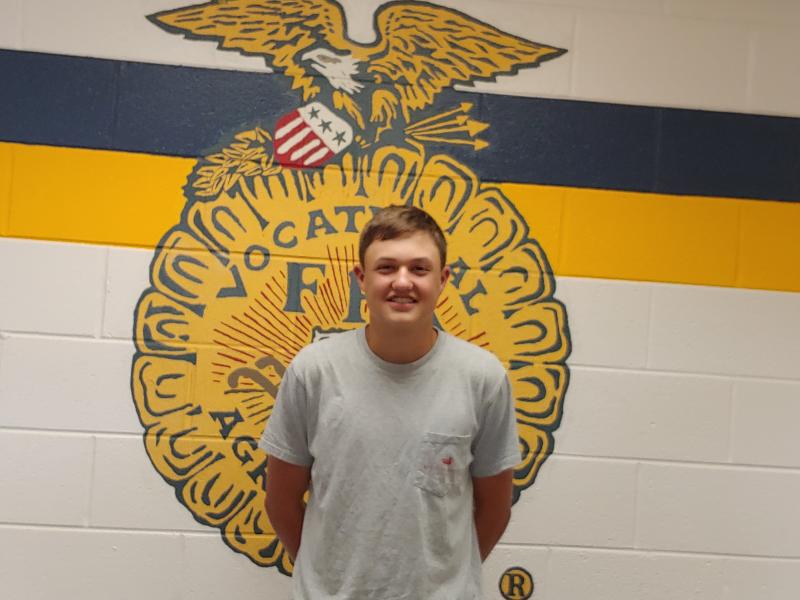 .
Cannon County high school junior T. Wayne Williams grew up in the farming industry and has no plans to do anything else besides carry on the family tradition.
"My family owns a 116 acre farm. We raise 40 head of angus cattle." Williams said of his background.
T. Wayne's loves the FFA organization as he said his dad is an alumnus of the program. "My dad's always been in agriculture. So I've always had a dear love of agriculture and always wanted to be a part of FFA." he explained.
Williams has been a member of the FFA since he became eligible as a freshman.

Williams is one of the 240 high school members of the Woodbury Future Farmers of America (FFA) who will be hosting the Truck and Tractor pull this Saturday at the Cannon County Fairgrounds. He is no stranger to the events having attended quite a few in his life already.
"I love hearing the trucks and tractors." Williams remarked. "It's a great atmosphere. Always fun to see who pulls the furtherest."

You can see T. Wayne at the pull manning the gates and helping to usher people into the event.
The proceeds of September 18th goes towards the Woodbury FFA program to help cover overhead costs of the program and contests which aren't cheap when it comes to covering 240 students.



Williams explains what he loves about the program and how it benefits him. "I definitely love our contests. We have three advisors who teach us a lot. FFA teaches you how to grow I feel like as a person. It teaches you how to be a better public speaker and grow in agriculture. I feel like it's not just teaching you to be competitive, it's also teaching you how to be ready for life."

With all of the activities he is involved in, T. Wayne is making the most of his opportunities in high school and there may be one more opportunity T.Wayne might pursue if given the chance.
"I have definitely thought about being a competitor in a truck and tractor pull. I think it would be a lot of fun." he said.

Tickets are $15 for adults. $5 for kids. Gates open at the Cannon County Fairgrounds 4p with the event starting at 6p. Saturday September 18th.