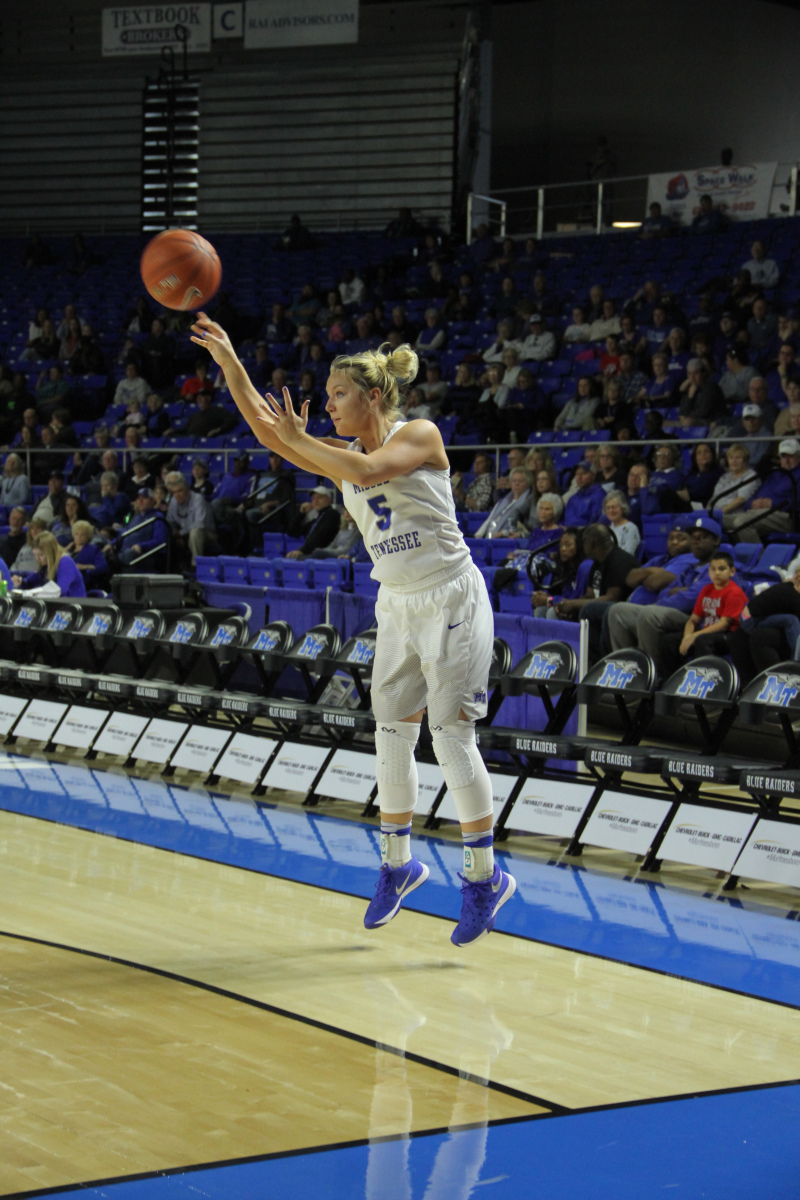 By TONY STINNETT
Middle Tennessee junior guard Abbey Sissom has been named to the C-USA All-Academic team following a stellar season on the court and in the classroom.
Sissom is one of six C-USA student-athletes named to the all-academic squad, joining Nikolina Todorovic, FIU; Deanna Kuzmanic, UAB; Loryn Goodwin, UTSA; Kendall Noble, WKU; and Micah Jones, WKU.
Sissom sports a 3.76 grade point average and majors in Pre Physical Therapy/Exercise Science, and made the C-USA Commissioner's List in each of her previous two seasons as a Lady Raider.
"Academics has always been important to me because I am not going to play basketball forever," Sissom said. "My parents and coaches always impressed upon me the importance of balancing academics and athletics. I take a lot of pride in my work in the classroom and on the court, and I try to give both the attention needed to excel. I am appreciative of this recognition."
While Sissom is a top-flight student in the classroom, she is also a talent on the court.
Sissom is second in C-USA and 22nd nationally for 3-point field goal percentage with a .421 clip. She is fifth in C-USA for 3-point field goals per game with 2.3 per outing. Sissom is also third in C-USA for assist-turnover ratio (1.9) and third in C-USA and 29th nationally for minutes per game (36.4).
Sissom is one of five players ranked in the Top 5 of four statistical categories in C-USA.
"We stress academics and athletics at Middle Tennessee, and we are proud to have as much success in the classroom as we do on the court," Middle Tennessee Head Coach Rick Insell said. "Abbey Sissom is the personification of a student-athlete. She excels academically with a very tough major, and she has had a good season for us. She puts in her time in the classroom, and then she comes in and puts in extra work on her game. She does a very good job with a time management. I am extremely proud of Abbey and her achievements."
In addition to being the team's top 3-point threat and one of the top assist players in the conference, Sissom also is a top-flight defender, generally drawing the assignment of guarding the top perimeter player.
Sissom has hit at least three 3-pointers in 10 games, and she has had at four assists or more in 13 games and five or more in 10 games