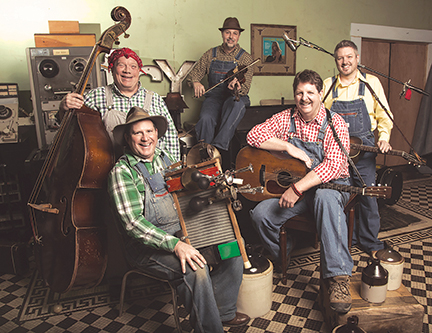 Ready for some rib-tickling fun? Then check out the Tennessee Mafia Jug Band coming to Woodbury on Saturday, April 18 at 7:30 p.m.
It's five guys and a scrub board, with roots like wisdom teeth, who hale from the pastoral hills, hollers, shopping malls and interstate highways of Goodlettsville, home of Bill Monroe, Bashful Brother Oswald, Stringbean, Grandpa Jones, Keith Whitley and some living country music performers, They're the most entertaining "blast from the past" since Lester "Road Hog" Moran and the Cadillac Cowboys.
The Tennessee Mafia Jug Band includes Leroy Troy - "The Tennessee Slicker", Mike Webb, Dan Kelly, Ernie Sykes and Mike Armistead. Ticket prices are $15 for adults and $13 for students, seniors and groups and may be purchased by calling the Arts Center of Cannon County's box office at 615-563-2787 Tuesday through Saturday from 10 a.m. to 4 p.m. or online at www.artscenterofcc.com.
The Tennessee Mafia Jug Band have shamelessly stolen a feature of the old Roy Acuff Show - a bit known as "Pap & the Jug Band" which would perform rip-roaring songs like "Too Old to Cut the Mustard."
This frolicking five-some brightens up the stage with rib-tickling old time tunes. Even better, they have an utter lack of self-consciousness (and some might say any sense of decorum). The Tennessee Mafia Jug Band not only knows the music, they wear the costumes, tell corny jokes and even do slapstick gags that throw a cable-TV numbed audience into hysterics. This group will give you a lot of "hot picking," "powerful harmony singing" and "riotous hijinks" that are guaranteed to perk you up.
The concert is the first in a series of musical events set this season at the Arts Center. Next on the list is an appearance by Denny Laine on April 24 at 7:30 p.m.
Laine was Paul McCartney's main collaborator and co founder of the band Wings, which was one of the most internationally successful bands of the 1970s. The band had 24 hit singles at the top of the charts and won a Grammy for their landmark album "Band on the Run."