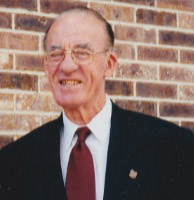 Paul L. Reed, age 96, died on Wednesday, August 24, 2016 at his home. He was born and grew up in the Curlee community, became a member of the Curlee Church of Christ at an early age and attended church there for many years. He attended Woodbury Church of Christ in his later years. He was a farmer, Tennessee Farm Bureau insurance agent, and co-founder of Paul L. Reed Furniture Company. He was a good Christian, husband, father and friend and an honest man in all of his dealings.
He was preceded in death by his wife Rhea Brandon Reed, his parents Robert and Myrtis Lee Reed, sisters Ruby Gutierrez, Rhea Spooner and Dorothy Elam.
He is survived by four children: Judy (John) Durkin, Patsy (John) Holden, Betty (Donald) Conn, and Michael (Carol) Reed; grandchildren: Tara Holden (Lea) Murphy, Brent Holden, Ryan Reed and Hayley Reed (Josh) Rooker; step-grandchildren: Alisha Bryant Day and Bart Bryant; great grandchildren: Maggie and Conner Murphy; step- great grandchildren: Dylan, Zack and Evelyn Day and Elanor Bryant; sister Elsie Dean Scott of Cincinnati, Ohio; cousin Frankie Goins, and sister-in-law Mina Lewis.
Funeral services will be held at the Smith Funeral Home at 11:00 a.m. on Friday, August 26 and interment at the Riverside Gardens Cemetery. Visitation will be on Thursday, August 25, from 3:00 p.m. to 7:00 p.m.
Memorial donations can be made to the Curlee Church of Christ, Readyville, TN; Woodbury Church of Christ or Adams Memorial Library in Woodbury, TN. Please contact the Smith Funeral Home in Woodbury for information. Condolences and memories may be shared with the family at www.smithfuneralhomewoodbury.net Smith Funeral Home, 615-563-5337