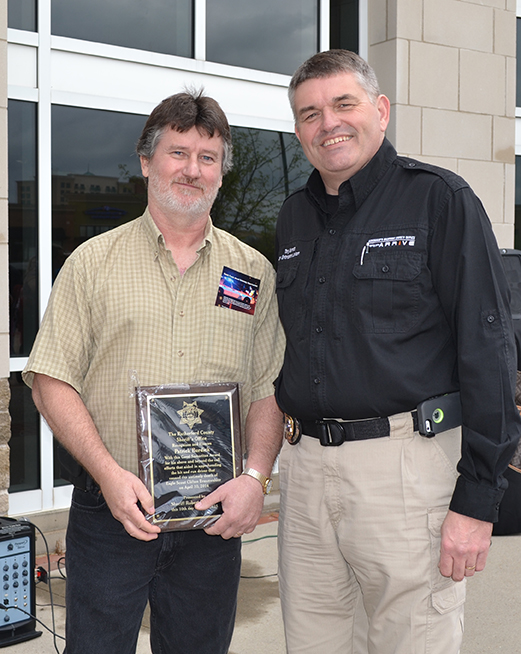 A 13-year-old sister who watched her brother killed by a suspected impaired driver one year ago relived the tragedy during a press conference Friday.
Louann Braunwalder and her brother, Clifton, 13, a Boy Scout, had just changed a flat tire on their mother's car when she heard screeching and saw the car strike her mother and brother April 10, 2014 on Interstate 24 near Sam Ridley Parkway.
"Mom fell and Clifton was flung a considerable distance from the car," Louann said. "My mom was screaming. I ran over to Clifton. Once my mom got to us, I ran to the place my mom had fallen and grabbed her phone and dialed 911."
Louann spoke during the press conference sponsored by the Governor's Highway Safety Office and the Rutherford County Sheriff's Office at the Chamber of Commerce. Law enforcement officers from Murfreesboro, Smyrna and La Vergne Police departments, the Tennessee Highway Patrol, Boy Scouts and family and friends attended.
The driver of the car accused of striking the Braunwalders was identified and charged with vehicular homicide by the Tennessee Highway Patrol. She is awaiting trial.
GHSO, the Sheriff's Office and other law enforcement agencies are conducting a sobriety checkpoint in Clifton's memory beginning at 11:30 p.m. Friday on U.S. Highway 70 South (John Bragg Highway).
Norbert Braunwalder, Clifton's father, said the checkpoint provides an opportunity for the family to keep distracted on the anniversary of his son's death. He hopes drivers will think twice before driving impaired.
Since her brother's death, Louann finds it difficult to sleep, study or play basketball.
"This year my basketball team went to the championship and won first place," Louann said. "It was hard without him this season because he was my biggest fan and cheerleader. I didn't really have anybody to practice basketball with."
Clifton's teachers and friends tell her stories about him, that makes her feel "as if they were giving me a part of my brother back," she said.
"My life wouldn't have changed if someone didn't get into their car impaired," Louann said.
GHSO Director Kendell Poole said his agency's goal is to reduce traffic fatalities.
"We don't want the numbers to represent another family like the Braunwalders," Director Poole said
Tony Burnett, GHSO's Middle Tennessee Law Enforcement Liaison coordinator, said the goal was to send a message for Clifton Braunwalder's family about driving more responsibly in Tennessee.
"When lives are lost on Tennessee roadways, hearts are left empty," Burnett said.
Sheriff's Chief Deputy Randy Garrett gave Louann a Sheriff's challenge coin for her bravery.
In behalf of Sheriff Robert Arnold, Chief Garrett presented a Good Samaritan award to Patrick Burdick, who followed the driver suspected of hitting Clifton and his mother. He helped identify the driver to the THP who made the arrest.
Sheriff's Patrol Major Egon Grissom said the whole purpose of the press conference and sobriety checkpoint is to educate drivers about the consequences of driving impaired or distracted.
"We're there to deter drinking and driving," Major Grissom said, adding he hopes the efforts will stop these drivers.
After the press conference, Clifton's mother, Sondra said she wonders what she could have done to prevent the crash. But she believes the checkpoint will do something positive for her son's memory.
"He wants us to be happy," Sondra Braunwalder said.