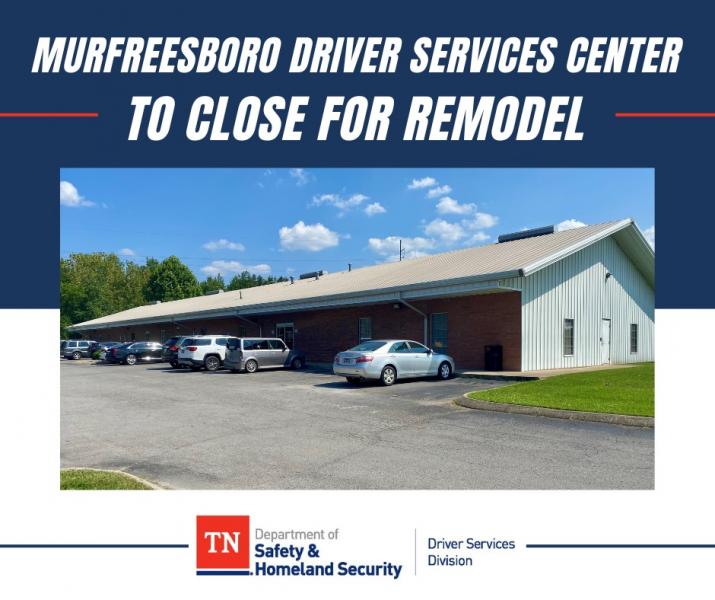 The Murfreesboro Driver Services Center, located at 1035 Samsonite Boulevard, will close to the public for a planned remodel on Sept. 15 and reopen mid-November. During the remodel, citizens can visit four self-service kiosks in Rutherford County, other driver services centers, or utilize online services at tn.gov/safety/driver-services/online.html.
While the Murfreesboro Driver Services Center is closed, road skills tests can be scheduled at the new Murfreesboro Express Driver Services Center located at 3906 Blaze Drive. Road skills tests already scheduled at the Murfreesboro Driver Services Center will be honored at the Murfreesboro Express Driver Services Center.
Teenagers between 15 and 17 years of age, can take the knowledge test online under a parent or guardian's supervision via the Tennessee Proctor Identification (PID) app. Learn more at tn.gov/content/tn/safety/driver-services/driver-license-knowledge-test-online.html.
A variety of common transactions can be completed at a self-service kiosk. Citizens can renew an enhanced handgun carry permit; order a duplicate enhanced, lifetime, or concealed handgun carry permit; upgrade to a lifetime handgun carry permit; pay full reinstatement fees; reissue a driving privilege after reinstating; add emergency contacts; update, replace or renew a regular driver's license; change an address; voter registration or advance a graduated driver's license. Kiosks only accept credit or debit card payments.
Rutherford County Self-Service Kiosks:
La Vergne Public Library - 5063 Murfreesboro Rd., La Vergne, TN
Linebaugh Public Library - 105 W. Vine St., Murfreesboro, TN
MTSU 'Blue Print' Print Shop - Blue Raider Dr. at MTSU Blvd., Murfreesboro, TN
Rutherford County Clerk - 205 I St., Smyrna, TN
Nearby Driver Services Centers:
Murfreesboro Express Driver Services Center - 3906 Blaze Drive, Murfreesboro, TN
Franklin Driver Services Center - 3830 Carothers Parkway, Franklin, TN
Hickory Hollow Driver Services Center - 5216 Hickory Hollow Parkway, Antioch, TN