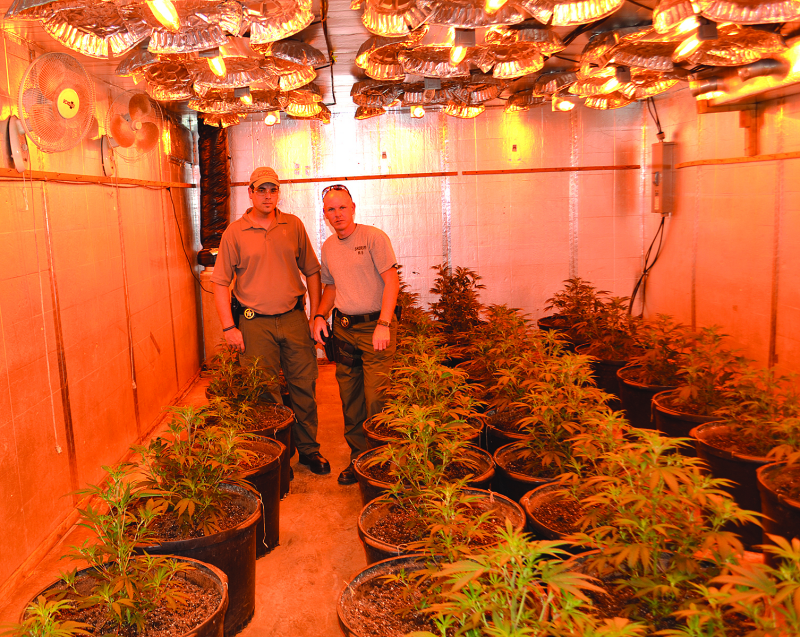 A major indoor marijuana grow was shut down in Readyville thanks to the Cannon County Sheriff's Office.
Arrested were Ivan Garcia Morales (aka Ivan Garcia) along with Rolando Bejerano Morales, both of Bradyville. Both men were charged with manufacturing, sale and delivery of marijuana, possession of drug paraphernalia, maintaining a dwelling to use/keep and sell narcotics and theft over $10,000.
Authorities seized 137 marijuana plants at the sophisticated indoor grow operation.
Cannon County Sheriff's investigators were tipped off about the operation by the Tennessee Bureau of Investigation's anti-drug unit.
"I was advised that the residence in question was 2060 Tassey Road, Readyville. The residence would be in the name of Ivan Garcia also known as Ivan Garcia Morales who has been linked by TBI into several indoor marijuana grows in Bedford County and Giles County, Tennessee," reported Investigator Brandon Gullett.
A TBI special agent had begun investigating the actions of "Cubans growing marijuana in large, sophisticated indoor growing operations" built inside metal buildings. During a TBI raid, a land tax document for the Readyville property was discovered.
On Aug. 26, Gullett and Investigator Chris Brown launched an investigation into the Tassey Road address and Ivan Garcia.
That investigation uncovered two pieces of property owned by Garcia -- the Tassey Road site and a home at 82 Pawnee Drive in Bradyville. Several hours of surveillance followed.
When Gullett and Brown drove by the Tassey Road address the officers noticed a strong scent of raw marijuana.
"The smell of raw marijuana would take your breath away and was so strong that Investigator Brown made the comment that's a lot of marijuana. I then agreed having dealt with marijuana in all stages for years. I don't think that I had smelled an odor that strong in the air," Gullett said.
The officers then notified Assistant Attorney General Trevor Lynch and began the process of getting a search warrant. The Tennessee National Guard Counter Drug Unit was contacted for assistance with surveillance.
A helicopter fly-over was conducted the following morning as Counter Drug Unit officers continued their stake-out.
The Cannon County officers returned to the Sheriff's Department and plans for a take-down were quickly put together. Sheriff Darrell Young and Chief Deputy Anthony Young joined Brown and Gullett who headed to the Tassey Road address.
A search warrant was served on Rolando Morales, who was discovered on the property.
Morales opened the building and the smell of raw marijuana was strong enough to take your breath away, Gullett said.
"The temperature inside this building was extremely hotter than it was outside," the investigator said. A large water tank and items used in growing marijuana were discovered.
Gullett opened a second door "and observed an entire room of lights and marijuana plants in large black pots. The room was set up with irrigation, air ducts, water pump, heat lamps, fans and an electrical board, unlike anything I had encountered."
A second room was arranged like the first but was not in use at the time. However, a pile of 400 to 500 marijuana stalks were discovered along with a machine used to strip the plants.
In another, smaller room two large HVAC air conditioning units were found. Additional marijuana plants were discovered as well.
Meanwhile, Sheriff Young had contacted Middle Tennessee Electric to come out and cut off the power so the items inside the buildings could be safely removed.
Once the electric meter was removed by MTE workers, power to the building continued to run.
"The members of this operation had spliced into the power supply prior to the meter and was stealing electricity. MTEC then cut the power off at the transformer and killed all power," Gullett said.
Middle Tennessee Electric officials later dropped off an official report totaling the amount of electricity stolen.
The report indicated that $14,400 worth of power had been taken illegally, which over a 10-month basis equaled $1,400 a month, Gullett said.
A search of the house at Pawnee Drive in Bradyville was conducted and evidence was taken including $4809 in cash and a number of documents including wire transfers, money orders, boxes of light bulbs, black pots and other items matching up with those discovered on Tassey Road. Two trucks, five cell phones and a 4 x 8 trailer containing a Hustler lawnmower were seized.