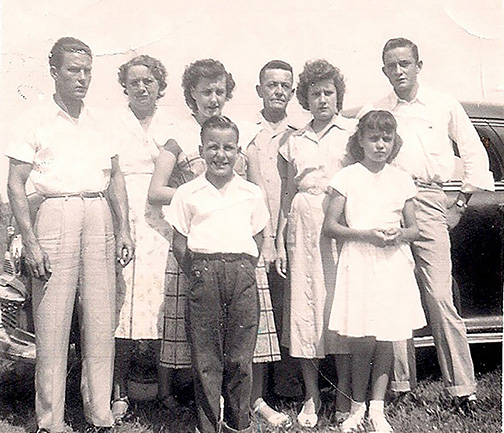 KEN BECK/The Cannon Courier
DYESS, ARKANSAS--If this 80-year-old house could talk ... well, actually it does, through the words and music of the late country music legend Johnny Cash, whose young life was nurtured in this tidy, white five-room house.
A little less than 1,000 square feet, the house boasts green shutters, a small front porch with a swing and a screened-in back porch. Inside and out, it appears nearly exactly the way it did after 3-year-old Johnny, then known as J.R., his parents Ray and Carrie Cash and their other four children, Roy, Louise, Jack and Reba, settled into the historic Dyess Colony in 1935. (Later, siblings Joanne and Tommy were born here.)
The biggest difference might be that the cotton fields the family once toiled in have vanished, as the solitary house today stands surrounded by rice and soybean fields.
Johnny wrote and sang about those hardscrabble times when family fortunes rose or sank with the ambivalent moods of the weather, especially harsh when drought or floods came knocking.
He vividly painted some of those days in his tunes "Pickin' Time" and "Five Feet High and Rising," but nowadays the house speaks for itself, albeit a silent witness, to those who come to pay homage to "the Man in Black" at the Johnny Cash Boyhood Home.
The site, about 50 miles northwest of Memphis, opened to tourists late last summer. When Cash family members took their first walk through the resurrected home place, tears flowed just as they did March 24, 1935, the day it became the house of Cash.
Inside the tiny living room a motion sensor sets off a short video in an oval mirror. Visitors hear Johnny as he talks to his sister Louise in 1968 when they toured the house for a documentary, "Johnny Cash: The Man, His World, His Music."
Said Johnny at the time, "We moved into this house in the winter of 1935. There were five cans of paint sitting there on the floor, was all it was here. Remember? And every one of us sat down in the middle of the floor and cried."
Rosanne Cash reflects
"I saw the house in 2011 when Arkansas State University just purchased it, and it was inconceivable that it could look as it does today," said Johnny's daughter, Rosanne Cash, to the media during opening ceremonies. "If my dad could walk into that house today, I think he would be so overcome with the feeling of going back in time and to seeing his deepest memories preserved forever now and for other people to see how they lived and what influenced him so profoundly."
The property that Johnny's father bought, House 266 on Road 3, along with 20 acres, cost Mr. Cash $2,183.60. Its purchase and restoration price was $575,000.
A New Deal colony, part of President Franklin D. Roosevelt's plan to give poor Arkansas farmers a fresh start, was created in a wilderness of forest and swampland. Ditches were dug to help drain its 16,000 acres. The population during Johnny's formative years was 2,500. Today the community numbers 450.
Johnny's sister, Joanne Cash Yates, reflected on the house where she lived the first 17 years of her life, saying of first her visit into the restored abode, "They say you can't go back, but my brother Tommy and I got to go back like we walked back into our life when I was a little girl."
Step inside the house
Larry Sims, Dyess mayor from 2002-2014, serves as facility administrator of Historic Dyess Colony and the Cash home. He also gives tours, which begin inside the administration building that doubles as city hall and a museum of the colony--with special emphasis on its most famous resident.
Among the artifacts that visitors can see here are Johnny's report cards, his senior class yearbook, his prom memories book, a table he made in his high school shop class and, most poignant, the pillow that he and his brother Jack shared before Jack's death after a tragic sawmill accident at the age of 14.
Dyess Colony is an Arkansas State University Heritage Site, one of four in the state. With little fanfare, the attraction draws about 300 visitors a month, but they are projecting 30,000 a year after they mount a publicity campaign. Thus far, tourists have come from more than 40 states and 19 countries including Switzerland, Ireland, Chile, Germany, England and Vietnam.
"In the long run, this is going to be good for the whole town and is helping the city pride," said Sims before a stroll through the Cash house.
Perhaps the most precious original item inside is Mama Cash's piano, around which the family gathered and sang gospel songs. The living room floor retains some of its original red linoleum, which was uncovered during restoration.
"The family described everything inside to help us redecorate," said Ruth Hawkins, director of Arkansas Heritage Sites at ASU, who headed the home's makeover. "Tommy and Joanne, when they saw it, said, 'We wouldn't change anything. This looks exactly like we remember it."
ASU created an online registry describing what they needed to furnish the house, such items as a sofa, chairs and coal oil lamp. Of the 500 to 600 pieces in the house, more than 125 were donated.
"Picking the cotton, the soil, the floods, the train. You name it: the hard work. They were all factors that influenced Johnny's life and his music," said Sims, who grew up half a mile away on the same road. "I never met him. He left in 1950. I was born in '52."
The floors and walls are pine, stripped to the bare wood. The minimal structure consists of two bedrooms, dining room, kitchen with pantry, living room and a six-foot by six-foot bathroom with a sink and white porcelain tub claw feet.
"There's the radio, just like they had, and a wood stove that was their only heat," said Sims. "There was no electricity when the house was built. That came 10 years later. They never had running water. They would pump water from the well and heat it and carry it to the tub for a bath. These were nice houses back in the '30s, even though they didn't have electricity or water."
"Johnny was known as J.R. while growing up here," said Sims, stepping into one of the bedrooms. "He slept in bed with his older brother Jack, and two sisters also slept in the same bedroom.
"Those were his favorite books," Sims noted of two books sitting on the bed, "The Lone Ranger" and "Lone Bull's Mistake." "That painting on wall, they say he took the picture out of a magazine and made the frame for it and hung it on the wall and would sit and wonder what the peoples' lives were like in the village below."
Cash fans pay respects
A retired mechanic for the city of Memphis, Sims leads about 20 tours a week. He says they may go from 15 or 20 minutes or up to two hours for "those who want every little detail."
He escorts as many as 50 visitors at a time and as few as one: "Whoever shows up, we'll bring 'em out here," he says. "I think it's gonna go crazy come springtime."
Sims said that interest picked up in the house around 2005, when the "I Walk the Line" feature film, starring Joaquin Phoenix and Reese Witherspoon, spurred it along.
"People started showing up from all around the world wanting to see the house. It was in pretty bad shape. There was nothing when we started. It's been put back together from where we started like one big picture," he said.
"The movie brought on a whole 'nother generation. We had a boy 12 to14 years old from Procter, Arkansas, come, who could play every Johnny Cash song on his guitar. There was one couple said they been wearing black to work every Tuesday for years to honor Johnny. There is no other Johnny Cash house. This is where he grew up as a boy," Sims stated.
"He did what he does best. He just wanted to play music. He didn't care who you are. He'd play for Indians, poor people, presidents and kings. I don't think he cared. All walks of life liked him.
"When people leave, you hear 'em talking on the phone. They'll say, 'You're not gonna believe it where we're at.' They leave me tips from $2 to $20. I turn them in to the museum. We're closed on Sunday. Rest of the week we're open 9 to 3, but if you get here at 3, I'll take you through it."
"This house brings back a lot of memories for a lot of people. They say, 'My mother had a piano like this,' or 'That's the way we slept, four or five to a bed.'''
Of the gravel road in front of the house, Sims noted, "The road's in the midst of gumbo that eats it up. They cut that road 100 feet wide with ditches on both sides for drainage. The Cash family walked to the house on board planks to keep off the gumbo.
"When Johnny lived here, more than 100 kids lived on this mile stretch to town. The families
averaged five kids. They had to have a lot of kids to work the farm. There were 24 to 28 homes along here. This is the only one left standing."
Arkansas State led project
Arkansas State University became involved with the Dyess Colony project in 2006 when it partnered with a Rural Heritage Development Initiative (RHDI) conducted through the National Trust for Historic Preservation. After completing a feasibility study and master redevelopment plan in 2010, ASU bought the house from its private owner in 2011.

Director Hawkins reflected, "When I saw the house in 2006, I wanted to cry. The gumbo soil in Dyess is unrelenting and causes structures to move and shift. Over the years, it had caused the concrete piers that served as the foundation for the house to roll sideways or sink into the ground. Thus, the house was sagging in the middle and resting directly on the ground in a number of places, causing the wood siding to deteriorate, along with other damage. There had also been a number of changes to the house over the years, but fortunately most of those changes were reversible."

Much of the costs of restoring the house "literally went into the ground!" she said.
To correct the problems, the house was moved off its foundation, a seven-foot-deep pit was dug and the gumbo soil was hauled away, and hole was repacked with better draining soil. After a two-foot-wide concrete foundation was laid around the perimeter of the house, its historic concrete piers were set on the new foundation so that they would not sink into the ground, and then the house was moved back into place.
Helping Arkansas State raise funds for the restoration was Lebanon, Tenn., resident Bill Carter, who conceived of the Johnny Cash Memorial Concert. The Rector, Ark., native produced four concerts in Jonesboro, Ark., from 2011 to 2014, that garnered $375,000.
The university, aware of Carter's background as a former Secret Service agent, lawyer, security consultant for rock 'n' roll acts and manager of such singers as Reba McEntire and Waylon Jennings, asked if he would contact the Cash family about the project.
"Initially I talked to the [Cash] estate's lawyer, who said, 'Sure, you need to talk to [Cash's children] Rosanne and John Carter,'" recalled Carter. "They thought it was a great idea, and we put together that first show. Then Ruth Hawkins got involved. It was a joint effort between ASU, myself and the Cash family.
"Mainly, I put together the talent and show. The first one was a big success. We did it each year, four of them, and the last one, with Reba, Loretta Lynn and Bobby Bare, was kind my way of going out, and raised enough money to pay for the house, and we got a couple of Johnny Cash scholarships built in there as well," Carter said.
What would Johnny think?
When quizzed as to what her late, great country music star brother would think of this, his sister responds, "I think he would be overwhelmed like the rest of us and say something like, 'Why did you spend so much money restoring this old house?' I think he would absolutely love it.

"When we lived in that house Daddy was a cotton farmer, and life was really, really hard. But to walk back in there now that I'm grown and remembering all the years and all the things we went through in that house, it's just a joy and overwhelming to know that somebody, Ruth Hawkins, cared enough, because that house was crying out to be restored.
"People would come from all over the world and say, 'Was this the way Johnny Cash lived?' and it was not. It was about to fall down, but to see it restored. My mother kept everything very clean: So shiny that you could see yourself in it," said Joanne, who lives between Hendersonville and Gallatin.
On the ground beside the back doorstep rests a large gray stone that workers found beneath brush in the backyard. Joanne remembers that her father brought it back from a trip to Hoxie, Arkansas, when the family went to watch Tommy play a high school basketball game.
"Daddy put it at the back door because it was always muddy, and we used the rock to wipe our feet on," said Joanne Cash Yates, who had the heavy "Hoxie Rock" put into the trunk of her car so that she could take it home and clean it.
"Now the house is complete," said guide Sims. "That was the last thing the family put back."