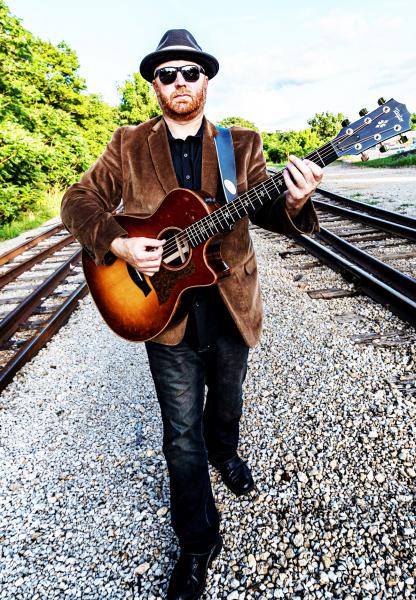 This is one of the front page stories in the August 10th issue of the Cannon Courier. The Courier is out in stores across Cannon County on Monday and in subscribers mailboxes on Tuesday and Wednesday. Subscribe today by calling 615-563-2512.
Local musician, producer & songwriter, John Salaway used his time during the pandemic shutdowns to write and record a full length album of songs that could help people get through difficult times. His fourth solo album 'Salvation' was released on April 30th, and already has received some great attention in the US and overseas in Australia and the United Kingdom.

About the album's production, Salaway says
"I ended up doing some remote recording sessions using modern technology to send tracks back and forth to other musician friends during quarantine." Those friends make up an all-star line-up of musicians who are usually busy touring under normal circumstances, but there was nothing normal about 2020 and John created an opportunity at a time when musicians were not allowed to tour. The album lineup includes Rami Jaffee of the Foo Fighters, Peter Keys of Lynyrd Skynyrd, Lincoln Parish of Cage the Elephant, Katie Cole of the Smashing Pumpkins, Rob Arthur of Peter Frampton Band Nate Heffron of Anderson East and more. The album has received rave reviews from American Songwriter magazine, Americana U.K. magazine and other press around the world.

His first single off the album "Weather the Storm," co-written with Craig Wilson, was released shortly before the album came out. It's message was simply about weathering difficult situations like the pandemic and states that love is the thing that gets us through the hardest parts of life. The uplifting message of optimism continued with the second single off the album "Letting Go is the Hardest Part." "We all have stuff that we hold on to from the past that can be hard to let go of," John explains about the most popular song on the album. "Sometimes we hold on to painful things for our entire lives. If we can let go of those painful things, that's when we can really find peace in life. That song is really about redemption and forgiving ourselves and others who have hurt us."
"A lot of the album is about the real stuff in life that we all deal with, but also gives optimism about how we can all get through it," John says,

He explains the key to putting an album like this together. "Inspiration. I feel songwriting is magical and sometimes you get hit with an idea where you think this is meant to be, someone needs to hear this. Some ideas hit you and it feels like you just have to get them out there."

Salaway's music has been featured in international press and played on radio worldwide. Some songs have landed in the top ten on American, Australian & UK indie radio charts.

Locally, rain got in the way of a Main Street Live performance in McMinnville a few weeks ago, but John will return to McMinnville's Park Theater on October 10 in a double billing with his original band, The Stones River Saints, and his Beatles tribute band, Forever Abbey Road.

Salaway is currently co-writing with some hit Nashville songwriters as well as producing songs for many other artists and will soon be heading out on the road to perform at stops in Georgia, Florida, Kentucky and all over Tennessee. In addition to that, he is also scheduling performances at Hop Springs Beer Park between Murfreesboro and Woodbury. More dates will soon be added to John Salaway's schedule and website johnsalaway.com to give him a chance to spread his inspiration, and messages of optimism and love to audiences through his music.