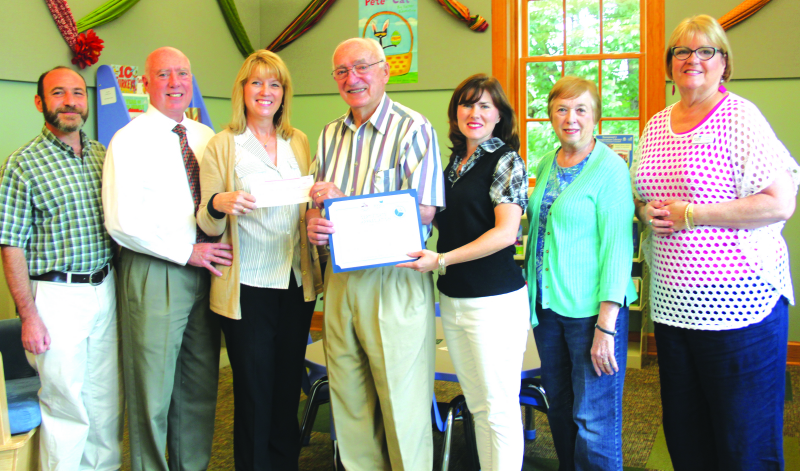 On hand for presentation to the Imagination Library program were, from left, Neal Appelbaum, executive director of Arts Center of Cannon County, Gerald Melton, Marcia Melton, Charlie Harrell, president of Friends of the Library, Melissa Teply, Cannon County Imagination Library coordinator, Judy Schoen, Bor of Trustees, Cannon County Library System, and Cynthia Crane, Governor's Books from Birth Foundation, Outreach Coordinator.
The big winner of the Arts Center of Cannon County Reverse Raffle fundraiser was Cannon County Imagination Library.
The Arts Center presented Cannon County Imagination Library with a check for $5,000 on Aug. 7. The $5,000 means 416 children will receive 1 book a month for 1 year or 83 children will receive 12 books a year for 5 years.
"This will cover about 3/4 of our cost for a year of books for the children of our county!" stated Melissa Teply, coordinator for Cannon County Imagination Library.
Cannon County Imagination Library needs the money to cover our costs of book purchases. The Dolly Parton Imagination Library and the Governor's Book for Birth Foundation help tremendously with the costs, however Cannon County must cover a little over a dollar per book per child every month.
It is a rewarding endeavor to bring books and reading to children. The program is for every child between birth and five years of age, and it is free.
Each registered child receives one new book every month until age 5. Cannon County Imagination Library works to see that every child is registered.
You may register your child on the Dolly Parton Imagination Library site (https://usa.imaginationlibrary.com) or pick up an application at Dr. and Mrs. J. F. Adams Memorial Library. Also, the Governor's Book from Birth Foundation website has online registration for the Imagination Library: http://www.governorsfoundation.org.