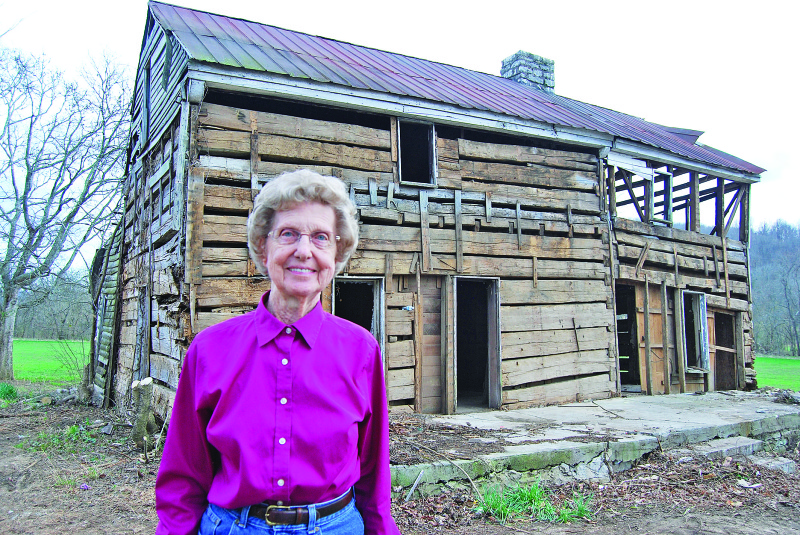 KEN BECK
The Cannon Courier
Most folks would hate seeing their family's old home place coming to the ground.

Not Kizzie Lou Fann Vance, a hardy Hurricane Creek native who's but a few days shy of turning 89.

Just like the 180-year-old cabin, where her great-grandpa was shot and killed by Yankee soldiers, Miss Kizzie is a survivor, and she knows this massive log structure will rise again, this time in far better shape than it's seen in many a decade.

The house, located on lower Hurricane Creek Road about a mile east of Auburntown, was last inhabited in 1985. Current owners Ronald and Eleanor Dowdy and their son, Ron, began dismantling the cabin earlier this year with plans to restore the logs and rebuild the structure.
Bloodstained floor?
Here on Aug. 2, 1862, Miss Kizzie's ancestor, Wilson County native Timothy Allison, who three months earlier had resigned from the Confederate Cavalry, took a bullet from a Federal rifle.

Miss Kizzie heard the story from family members when she was a small girl even though the place had not been owned by her family for more than half a century.

"I knew that was where the house was and where he was killed. He saw them coming and was running from the house, and they shot him," she said.
The only surviving great-grandchild of Allison turns 89 on March 28. She recollects seeing her ancestor's bloodstains at the site.

"When I was a child, Charlie Groom owned that house, and his twin granddaughters would have birthday parties there, and at the front door on the floor you could still see the bloodstains.

"I wonder who brought him into the house? I never did hear tell. I'm sure he died fast. He was buried in the Ewing Cemetery in Prosperity. It's all sunk," she says, referring to the tombstones, which over time have been swallowed by the earth.
Served in Confederate Cavalry
Richard R. Hancock, a neighbor of Miss Kizzie's great-grandfather wrote a short biography of Allison in his book, "History of the Second Tennessee Confederate Cavalry," in 1887.
Hancock noted that Allison was born Nov. 22, 1808, on a farm near Greenvale in Wilson County. On Jan. 23, 1840, he wed Sarah McGavock Ewing of Prosperity. They lived in Statesville, Prosperity and Greenvale, during which time Allison served a term as a county deputy sheriff and two years as a tax collector. In December 1859, he moved his family to a farm he had bought in Cannon County. When the Civil War began he was 52 and had seven children.

In his diary on June 26, 1861, Hancock reported that 84 men met at Auburn (the Cannon County community today known as Auburntown) and elected Allison captain of their company with the goal of "starting to Nashville to offer their services to their native State for twelve months."
On June 28, 1861, the Auburn Company (Company C), afterward known as the "Sangs," was mustered into the service of the State of Tennessee and absorbed into the 2nd Tennessee Cavalry which was commanded by Gen. Nathan Bedford Forrest.
During this first year of the war they were never in the heat of battle but had close encounters during the Battle of Fishing Creek that took place near Mill Springs, Kentucky, and during the Battle of Shiloh on April 6, 1862, the battalion had been assigned to outpost duty.
On May 5, 1862, the Auburn men were dispatched to Jacinto, Mississippi, and on May 14, 1862, Capt. Allison resigned and made his way back to his Tennessee home.
Old soldier returns home
Auburntown native Danny Nichols, a life-long student of the Civil War and a past president of the Auburntown Historical Society, shares more details about what happened to Allison.
"Upon completion of his year of service, Capt. Tim opted to not re-enlist, choosing instead to return to his family and farm near Auburntown. Much had transpired during that first year of the war, however, and when Capt. Tim returned, he returned to Union occupied territory," said Nichols.
"There was to be no peace for this retired Confederate cavalryman. While sitting on his front porch on Aug. 2, 1862, a Union patrol of 12 rode up to his house. Before Capt. Tim realized they were Union instead of fellow Confederates, they were already nearly upon him. Capt. Tim ran from the front porch of the home, through the house and out the back door, making his way to a rock fence separating his yard from the field beyond.
"While attempting to cross the fence and escape his Union pursuers, Capt. Tim was shot through the body, killing him instantly. He was carried into the house and laid upon the floor where his blood soaked into the boards beneath him. Those boards were still apparent with bloodstains from the stories I heard as a child growing up on Hurricane Creek, although I never saw them myself," Nichols reported.
Hancock wrote in his book about his neighbor's character, stating, "Allison made an excellent captain. He thought a great deal of the men whom he had the honor to command, and his chief concern was their welfare and comfort. He was a kind father, a devoted husband, and a good neighbor."
A family heirloom, a photograph of Capt. Allison, shows a man in Confederate uniform with a grim visage gripping his sword. He looks much older than 52 years of age.
Miss Kizzie recollected that she, her brother Lytle Earl, and her sister, Agnes, used the sword as a plaything when they were young.
"It was hanging upstairs. We played with it when we were kids," she said of the saber, which years later was stolen.
Life on Hurricane Creek
Miss Kizzie was born on Hurricane (pronounced Har-i-can) Creek less than three miles from the site of the cabin. Her father, Bill Fann, died when she was 6 just after he had purchased a 300-acre farm during the Depression.
In the first grade she attended Jones Chapel School where the teacher, Rilla Nichols, taught all eight grades. The remainder of her 11 years of education came at Auburn School where she graduated in 1947.
She married James Vance, a WWII veteran who served in the Navy in the South Pacific, on June 14, 1947. They have one child, two grandchildren and five great-grandchildren. Mr. Vance died June 14, 1990, thus they were married exactly 43 years.
Miss Kizzie, who took her first name after her grandmother's sister, is a champion seamstress and went to work in 1950 at the Colonial Shirt Factory in Woodbury making 40 cents an hour. She labored there until 1970 and worked 22 more years making knit shirts at the Colonial factory in Auburntown.
She has lived on Hurricane Creek all her life and said she likes living here because she's "close to family and friends." As a member of Auburn Baptist Church, she refers to herself as "the oldest thing going." She says, "God just give me one talent and that was to love people."
Her neighbor up the creek, Donna Gaither Nichols, has been dropping by once a month or so for the past year to fetch several gallons of sulphur water from Miss Kizzie's well as it seems to keep her healthy.
"I love going to talk with Miss Kizzie," said Donna. "She's very friendly, very modest, a hard worker and a survivor. She's such a giver. She makes pies, cookies, cakes and homemade rolls and takes them to people. She has a great personality and is well-loved in the community."
Back to the cabin
The house where Miss Kizzie's great-grandfather died has belonged to the Dowdy family more than 30 years. More recently they have been digging into its history. The original log structure appears to have had an additional log room added at a later date at which time the rock fireplace, instead of being on the end of the house, was now near the center. Also, an addition was made along the back of the house with milled lumber.
Eleanor Dowdy said about the structure, "We know it is pre-Civil War. It was not built by the Alison family but already there when they bought it. They moved in the 1850s. I think they were the second owners.

"We've said lots of times how we wished those walls could talk. It's been there a long time. It's been through a lot. It's stood the test of time that's for sure."
Her son, Ron Dowdy, has begun the process of dismantling the cabin, treating the project with kid gloves. His research has led him to conclude the logs are American chestnut.
"That house is considered a saddle bag," said Ron. "I spoke with friend in north Georgia that does this for a living [restore log cabins] about the characteristics of the house. The high ceilings became popular in the early 1830s. They were a mark of affluence, and there's also some joinery work in the floorboards that is typical 1830s architecture. We've tentatively dated that it was built between 1825 and 1835."
As for any signs of 154-year-old bloodstains, Ron reported, "I heard about them first-hand from a gentleman who lived on the hill. Mr. Pitts said that when he was a child, he could remember Capt. Allison's saber hanging on the back porch. He told me, 'I remember living in the house for a while and seeing the bloodstains in the floor.'
"I swept it up pretty good and haven't seen anything as of yet. The side room is covered with hardwood floor. Once we get that up we might know. There's a chance we might find it."

As for what comes next for the cabin, Ron said, "Once we get it completely disassembled, I'm gonna bring it to where I live now and do restoration work, replacing logs, treating the logs with a bug deterrent. I'm gonna hand hew any replacement logs and put it back together.
"Once I get the frame back up, I'm going to re-number it and take it back to Auburntown and take it about a thousand yards behind the house into a little holler with a little spring by Hurricane Creek and make it a family retreat. So it's gonna come back home."
This is marvelous news for Capt. Allison's great-granddaughter.
"I was so excited when they were tearing the weatherboarding off so you could see the house," said Miss Kizzie. "I never dreamed I'd live to see the logs because of the weatherboarding and now my great-grandchildren are gonna get to see it."