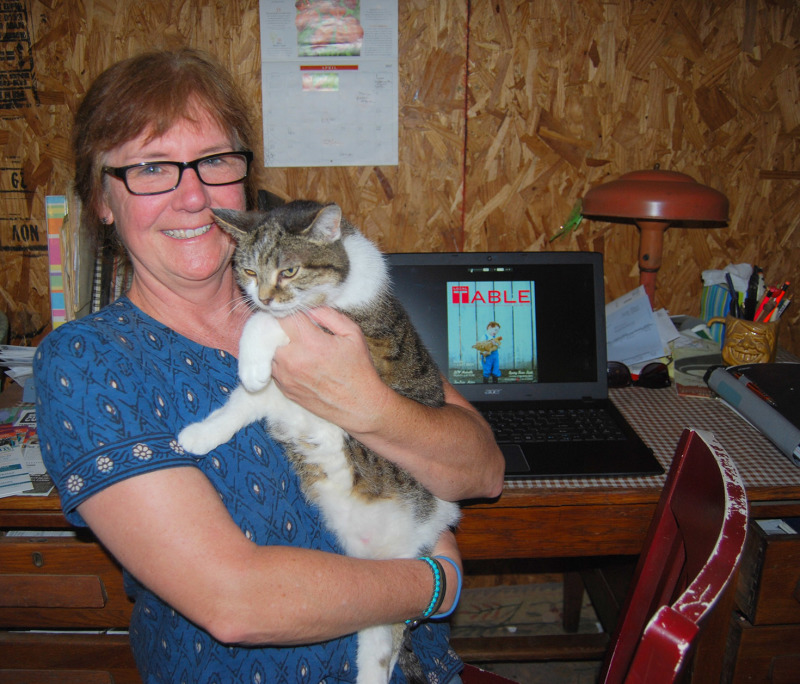 By KEN BECK
Lisa Shively begins the interview by asking herself the first question.


"We moved here from California. How did we ever wind up here sitting on a porch in Friendship Hollow?"


She grins, shakes her head and answers, sort of, saying, "But we love it."


Shively and Dale Cox, her husband of 22 years, left Nashville and settled on 56 acres of almost heaven near the Smith County community of Pleasant Shade in 2003. They abide in a yellow farmhouse that was built of poplar timber between 1875 and 1880. The structure boasts a tin roof, brick chimney, two blue front doors and an L-shaped front porch.


On an overcast afternoon in mid-April, Shively finds herself gently serenaded by the sounds of a babbling brook across the lane as she sits on the porch with a laptop computer and labors on the next issue of Local Table. A short while later a hard rain will pound out a one-note metallic melody on the tin roof above.


The former music publicist describes her magazine as "a guide to local food and farms, a way to connect local food and farmers to consumers."


The periodical has proven to be a boon for farmers and for discriminating eaters who want to know the point of origin of the food on their plates.


But there's also plenty of good reads on the menu.


Shively's most recent issue leads off with a profile of Smith Countians Jenny and Darrin Drake, who produce all-natural, grass-fed meat on their Peaceful Pastures farm. That's followed by an interview with Nashville restaurant king Tom Morales, whose most recent inspiration is Fin & Pearl, a seafood eatery in The Gulch.
Healthy-eating tips, creative gardening ideas, tempting recipes and a Q&A column by Farmer Jason, aka Jason Ringenberg of Jason and the Scorchers rock fame, also reinforce the magazine's mission.

Distributed in 42 counties, Local Table provides a list of 30 farmers' markets and approximately 250 farms in Middle Tennessee.

Shively distributes most of the magazines herself and is in the process of wearing out her third vehicle as she drops the publication off at various sites in cities ranging from Crossville to Dickson and from Clarksville to Columbia.

The publisher/editor uses freelance writers and photographers, while her mate handles the website.

So how on God's green earth did the couple wind up in Smith County?

Two words: Chestnut Mound.

"I started feeling like I was getting too old to continue working in the music business, and I wanted a garden. So we started looking, and it got a little out of control, and we came here," she says with a laugh.

She and Cox drew a big circle around Nashville and drove north, west, south and east.

"I met a lady from Chestnut Mound, and I really liked that name. So we came out this way. I liked this land. I loved the roughness of it -- the rocks and the water -- felt a bit like Ireland," she said.

Born in Los Angeles, Shively grew up in New England and graduated from high school in Stow, Mass., an area known for its apple orchards and sheep. She earned a degree in print communications from Southwestern Massachusetts University.

"My plan was to go into the newspaper business. I worked on our weekly paper, The Acton Beacon Journal, starting at 15 as a typesetter and ended up being a writer and doing layout during my high school and college days," she recollected.

Starting in Chicago and later migrating to Los Angeles, Shively worked for 35 years in the music publishing business helping promote blues artists, folk singers and California country acts. In the early 1990s, she began commuting to Nashville to stir up press coverage for recording artists who were not receiving much radio airplay. Among those up-and-comers were the likes of Vince Gill, Marty Stuart, Pam Tillis and The Mavericks.

She planted her roots in Music City in 1993, but by the late '90, the business was changing. Thus, she turned on a relief valve by plunging her hands into the dirt.

"First, I did Master Gardener because I was wanting to meet some people outside the music business. All these plant people are characters, and they want to share information. Everybody had a how-to-do-this and how-to-do-that. I just wanted to be around people who were passionate, and I just loved these plant people," she said.

Shively began publishing Local Table in 2007 but getting there was a 10-year-evolution.

"I was trying to think of something I could do. I kept floundering. I got into Jeff Poppen's CSA [community-supported agriculture] and went out to his place and got more involved with people into farming."

(Note: From his home in Red Boiling Springs, Poppen, aka the Barefoot Farmer, owns and operates one of the oldest organic farms in the state.)

"In L.A. every day there was a farmer's market in a neighborhood. When I moved to Nashville, there weren't neighborhood markets. There was no way to find local foods. One weekend we want to Ashville, N.C., and there I read a food and farm guide. I got all excited because there was nothing like that in the Nashville area."

The publishers of that guide held a workshop. Shivelyattended. Returning to Nashville, she had a game plan in mind, but after two years of searching for funding, she came up empty-handed.

"Finally, one of my brothers said, 'Here you can have some money.' He gave me some seed money to get it started."

This spring marks the 10th anniversary of her homegrown quarterly magazine, however, she reports Local Table will morph into an annual with the inaugural issue to be released in June as it sprouts from 46 pages to 80 pages in length.

She reasons, "If I do an annual I can do more events and help with education: to educate farmers dealing with marketplaces and educate consumers about local food."

The new annual will have a circulation of 45,000 readers and attract 50,000 visitors to its website each month. Shivelysaid the core group of readers is between 35 to 60 years of age and that 70 percent of them are women.

The local foods pusher practices what she preaches. The edibles she sets on her table that come directly from her Friendship Hollow garden and farm include eggs, cherries, raspberries, boysenberries, blackberries, blueberries, greens, tomatoes, peppers, squash and herbs.

"The meats are coming," she says, referring to her husband's herd of Katahdin sheep, a species that does not have to be sheared and produces a well-muscled, lean but meaty carcass with a nutty, full flavor.

While not writing, editing, selling ads, distributing her magazine or gardening, Shively enjoys canning, reupholstering old furniture, going to estate sales and collecting vintage fabrics. Next on her wish list is to build birdhouses.

Asked about the roots of the modern local food to table movement, she suggests two books that helped set the trend in motion.

"Michael Pollan's The Omnivores Dilemma [2006] discusses local food and asks, 'If you buy meat where is it raised?' It was kind of eye opening," she said.

"The other was Barbara Kingsolver's Animal, Vegetable, Miracle[2007], a memoir of her family who decided to only eat locally grown food for a year. Those two books got the conversation going."

Shively is of the opinion that with people leaning so heavily on the Internet, apps, cell phones and iPads that they are longing for more of a connection, getting face to face and seeing "that there is something real there" and enjoying foods that are "not mass produced."

As for farm fresh foods going directly to the consumer's table, she believes it is continuing to pick up speed, and said, "There's that segment of people that wants something different. I do think it's growing."

While Nashville continues to be a boom town, proliferating with more people, more cranes and more traffic nightmares, her lifestyle, like her magazine, reflects another perspective, one that relishes a gentler pace and cherishes being closer to nature.

"A lot of people in Nashville say, 'My dream is to get a place out in the country and have chickens or have bees,' and I don't think that's disappearing," said the champion of farmers and discerning eaters.