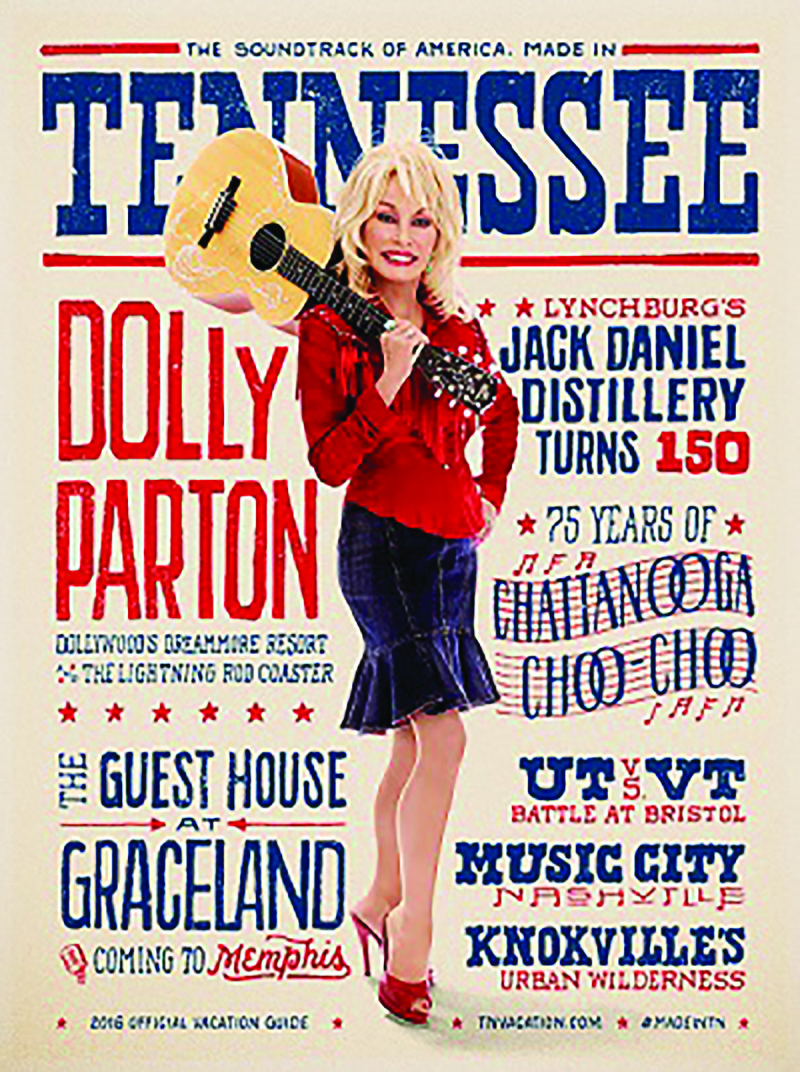 Tennessee Department of Tourist Development released the highly-anticipated 2016 Official Tennessee Vacation Guide featuring international entertainment icon and native Tennessean Dolly Parton.

The guide also highlights some of Tennessee's most authentic tourism attractions such as "Get Hands-On -- A Tennessee Culinary Guide" on page 16, which includes Short Mountain Distillery in Woodbury.
"Dolly Parton is a Grammy Award winner (10 and counting), a Kennedy Center Honoree, a Country Music Hall of Famer, and currently experiencing tremendous attention with the tremendous success of her TV movie, Coat of Many Colors," said Commissioner Kevin Triplett, Tennessee Department of Tourist Development.
"But she is first and foremost a Tennessean and provides unparalleled support of her home state. She welcomes guests to her new resort, is expanding Dollywood and other attractions and is making new music," Triplett said. "We are fortunate to work with Dolly in marketing Tennessee and honored to have her grace the cover of the 2016 Official Tennessee Vacation Guide."
Commissioner Triplett continues, "We have five pillars that we focus on in sharing with the world what our great state has to offer to its guests: scenic beauty, history, family, outdoors, and of course, music. Every city, every county, every destination in Tennessee falls under one or all of these pillars. As one of our top marketing tools, the 2016 Official Tennessee Vacation Guide celebrates each of these and what Woodbury has to offer."
Additional highlights featured on the guide's cover include the 150th anniversary of Jack Daniel Distillery, The Guest House at Graceland coming to Memphis, Dollywood's DreamMore Resort and Lightning Rod Coaster, 75 years of the Chattanooga Choo Choo song, the Battle at Bristol, Nashville - Music City, and Knoxville's Urban Wilderness.
Tourism partners and destinations across the state are provided with free listings in the guide each year and more than 550,000 guides are available to inspire potential guests worldwide to book a trip to Tennessee to experience the "Soundtrack of America, Made in Tennessee."
The 228-page guide is a compilation of stories, photographs, annual events, regional overviews, maps, and listings showcasing the state's incomparable scenic beauty, outdoor recreation, history, family fun, the arts and spectacular culinary scene with accompanying handcrafted spirits.
And let's not forget about a vibrant music scene that simply cannot be matched.
From legends like Elvis Presley, B.B. King, Tina Turner and Johnny Cash to current hit-makers such as Kings of Leon, The Black Keys, and Usher to up-and-coming artists like Judah and the Lion and Delta Saints, readers will find countless Tennessee music icons throughout the guide.
And the soundtrack doesn't stop there, the guide also highlights "Music Venues that Just Might Change Your Life" along with festivals and events to be added to every Tennessee traveler's bucket list. Just to name a few, featured experiences include Bonnaroo Music and Arts Festival, Beale Street Music Festival, the CMA Music Festival, the Bristol Rhythm & Roots Reunion and the Rhythm N' Blooms Fest, the Americana Music Triangle and numerous music-themed driving trails as part of the diverse network of Discover Tennessee Trails & Byways. The publication sends a powerful message that the "Soundtrack of America" is Made in Tennessee and is amplified from Memphis to Mountain City.
The guide is free at the state's 14 Welcome Centers and to guests requesting the publication via tnvacation.com and 1.800.GO2.TENN. It is also available as an e-guide at tnvacation.com/guide. As in previous years, an iPad app of the guide will be available soon in iTunes offering additional rich media and interactive content, as well as links to all advertisers.