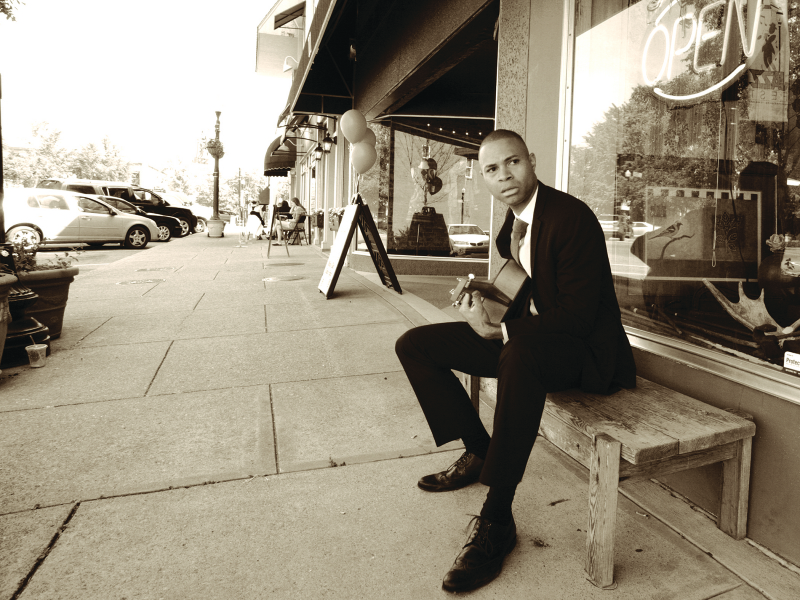 MIKE WEST/ Courier Editor
Delta bluesman, Robert Eskew, will kick off a concert series at 7:30 p.m. Saturday, June 20 at Bird Song Studio in Woodbury.
Eskew and his Blues Band will be performing acoustic and electric blues from the Delta region of the U.S. Bird Song Studio is located in a former church at 213 W. High St. next to the Woodbury Post Office.
In addition to being a music and recording venue, Bird Song Studio is the home of musician Robyn Taylor.
"In May of 2014 I made the move out to Woodbury from Nashville and made this church my home," Taylor said. "I absolutely love Woodbury and this church-house! The acoustics are beautiful and the space, as you can imagine, is inspiring and sacred."
"I am looking forward to sharing it with you!," she smiled. Taylor is pleased with the line-up of performers she has scheduled for Saturday night performances.
"When (Robert) digs down in his stuff and pulls out his guitar, man can he rip some Charley Patton! When I encounter young men like Robert, I'm encouraged," said blues musician Keb Mo.
Eskew met Keb Mo on a chance encounter.
"I only really played for enjoyment and at church until a once in a lifetime meeting with Keb Mo at a Christmas party. There was a band setting up to play and he was talking to the guitar player looking at his guitar. I joined in the conversation. He turned to me and asked 'do you play?' I started picking on the guitar, Piedmont style, and he offered me a gig on the spot," Eskew explained.
Eskew is from rural Georgia where he grew up listening to his grandmother's old blues 78s. On the play list was Blind Boy Fuller, Big Joe Williams and Muddy Waters.
"As I kid I didn't know there was any other kind of music. I thought there was only blues or church music. I remember my grandmother saying 'No blues on Sunday, It's the Lord's Day.' So we would only listen to gospel ... Sister Rosetta Tharpe and Mahalia Jackson," he said.
"I've been playing guitar since age 12. I play all types of music, but feel the closest connection to the sound of the old country blues singers. I want to carry the torch for the next generation of blues musicians and keep the old tradition alive." Eskew said.
Eskew became one of the guitar players for the Monday night blues show with Keb Mo at Fontanel in 2013. Since then he has worked with Gary Nicholson, Jon Tiven and Bekka Bramlett. Currently he is finishing his solo album.
Eskew's appearance in Woodbury is next in a concert series planned for Bird Song Studio. Called "Hills of Tennessee" the series features Roots Music, which is a mixture of folk, blues, country and other diversified musical types. Roots Music isn't over produced and because of that it is filled with raw emotion.
On July 18, Rhythm Kitchen will appear. Anchored by Woodbury native, Heather Moulder the band plays a blend of Tennessee blues and soul.
On Aug. 15, Roy Schneider and Kim Mayfield will perform.
Mary Gauthier will appear on Sept. 19.
By 2005, Mercy Now, Gauthier's first major label release, was on the top 10 list of The New York Times and Billboard Magazine. Soon after, the Americana Music Association recognized her as "New Artist of the Year."
Rolling Stone Magazine named "Trouble and Love," her most current album, as one of the top country albums of 2014. "How You Learn To Live Alone," co-written by Gauthier and Gretchen Peters, was recently performed by Jonathan Jackson (Avery) on ABC's Nashville.
The series will conclude on Oct. 17 with Wisewater, a country rock trio.
For more information, go to: www.thebirdsongstudio.com