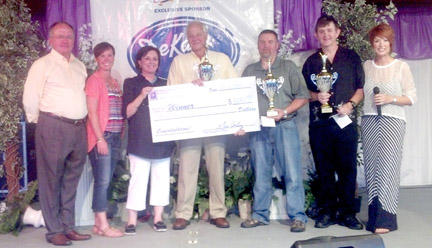 Cannon and DeKalb County participated in The Ultimate Weight Loss Challenge recently where teams and individuals lost all the weight they could over a three month deadline.
Winners were revealed on Friday, July 26th at the DeKalb County Fair where DeKalb County Mayor Mike Foster and Cannon County Mayor Mike Gannon showed up to hopefully claim the title of County Champion Overall. The 90-day challenge was sponsored by Stones River Hospital and DeKalb Community Hospital to encourage both counties to eat wise and exercise their way to better health.
"We are very proud of all of the participants of the challenge. A combined total of 943.2 pounds were lost. To celebrate this success, both hospitals are donating a combined 943 pounds of food to our local food banks," said Sue Conley, CEO of Stones River Hospital and DeKalb Community Hospital, "We appreciate both county mayors supporting the event. Additional thanks to Manager Pat Ford of Smithville Subway for sponsoring the challenge and providing coupons and gift cards throughout the event."
Top winners revealed during the Friday evening finale' included:
DeKalb County Champ-ion Daniel Seber lost a total of 17.04 percent total body weight making him the Ultimate Weight Loss Champion receiving a trophy and $500 cash prize as well as awarding DeKalb County the title of County Ultimate Weight Loss Champion Overall for 2013.
Cannon County Champion Billy Moulder lost a total of 11.07 percent body weight receiving a trophy and $500 grand cash prize.
Additional DeKalb top scores for cash and prizes included second place winner Linda Fowler, Amy Seber, Jimmy Crawford, Kevin Manning, County Mayor Mike Foster, Beth Chandler and The Happy Booker Team from Justin Potter Library / Kathy Hendrixson and Rochelle Turner Captains.
Additional Cannon County top scores for cash and prized included second place winner Teresa Bouldin, Mary Duncan, James Bogle, Pam Hoskins and the Junk in the Trunks Team / Faith Bogle Captain
When asked about DeKalb's victory, County Mayor Mike Foster replied, "I am proud to accept this trophy on behalf of DeKalb County. We are proud of Daniel Seber for a job well done and hope everyone continues to make healthy choices throughout the year."
Concerning Cannon County's defeat, County Mayor Mike Gannon smiles, "This was all in good fun and we are proud of both counties for their efforts. Mike Foster and I had a good time during the challenge. I am proud of Cannon County's hard work and congratulate Billy Moulder for representing us well."
"I was personally excited over the first year success of the challenge," said Director Shan Burklow of Stones River Hospital and DeKalb Community Hospital , "People are already coming up to me and asking if we will start another challenge for this fall. Although there are no immediate plans to start a fall challenge, we are scheduled for April 2014 and plan to make it even more interactive with more classes, workout groups, online recipes and continued support. Now that we know that both counties support the event and have given great feedback, we know what to plan for to make it even better than ever."
For information on how you can participate in the next Ultimate Weight Loss Challenge, join the Challenge facebook page: WeightLossChallenge.