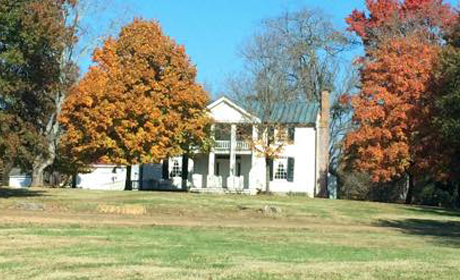 DAN WHITTLE
Courier Correspondent
Is there magic in music?
There is when Larry Kent Smith brings his harmonica to make music on the porch of the Sam Davis Home & Museum in Smyrna.
La Vergne resident Smith, when not making music on one of his cast of "25" mouth French harps, performs "magic shows" for civic, church and school groups.
"See this coin, what is it?" Smith asked during a brief break from making music.
"It's a half dollar," responded Imogene Barnes, who came all the way up from Louisiana to tour the historic setting and listen to music that ranges from country, to bluegrass to country gospel.
"Nope, it's a 50-cent piece," magician Smith corrected, before promptly making the coin disappear, as if it floated away on the cool recent fall afternoon breeze blowing in from the nearby cotton fields that Confederate Army Coleman Scout (hero spy) Sam Davis helped tend as a young boy on the old Davis Plantation.
When not making magic, Smith makes music.
"Music is magical too, which explains why I also have two banjos and a set of drums, among other instruments at my house," the musician noted.
Woodbury Mayor Harold Patrick equated this groups' impromptu non-professional gang of music makers with the late Billy Womack and friends at Billy & Jack's Barber Shop that formerly operated just off Woodbury Courthouse Square.
"Music is good for the soul of a community, especially special non-professional music that comes across from the heart of musicians," Patrick noted about area musicians.
"Billy Womack could make a fiddle talk, so good, he was invited to be on the Grand Ole Opry," the mayor added. "After his first performance, they asked Billy to come back, but he couldn't make the time work out, because of cutting hair all week. Co-owner Jack Davenport didn't make music, but he loved listening to Billy play that fiddle.
"I recall jam sessions when the Nokes Brothers would come down off Short Mountain, and sit in with Billy, both at the barbershop and at the shop in Billy's back yard at home," Patrick added. "Clyde Nokes, in his 80s, still comes down off the mountain, to donate his music-making for various charities. So yes, music is good for a community's soul, especially here in Middle Tennessee, the cradle of country music."
The mayor was asked how important is country music in the fabric of life for country people?
"Each morning back on the farm, Daddy (White Patrick) would tune in WSM on the radio, and listen to Flatt and Scruggs, who advertised Martha White Flour," Patrick added. "When the 5:45 a.m. Flatt & Scruggs program came on WSM, Daddy listened to music as he sent us boys out to milk the cows."
Lascassas resident Hooper Penuel recalls a relative, (the late) Alice Jarman Penuel, who was employed as a home economist for the Martha White Flour company over in nearby Lebanon, Tenn.
"Lester Flatt, after performing a song or two with Earl Scruggs, would say on the radio: 'Let's go back to the kitchen and see what Miss Alice is cookin' up for us today,'" Penuel recalled. "Alice married a cousin named Penuel, that's how our two families came together. My dad (Howard Penuel) would not miss the Martha White show that featured Lester Flatt and Earl Scruggs."
Alice Jarman Penuel once featured a recipe on the back of a five-pound bag of Martha White Flour from the kitchen of Murfreesboro banker (retired) Hilda "Mammie" Stuart, mother of recording artist Marty Stuart, who started his professional music career at age 12 with Lester Flatt.
Smith is one of a small group of non-professional toe-tapping musicians who gather, informally, each Wednesday, 2 p.m. pronto, to play either outdoors or indoors, depending on the weather, on historic Sam Davis Home grounds.
Impromptu band members include retired Smyrna post master Paul Lamb, whom you might say "orchestrates" the little band of music-makers.
The groups' name?
"We call ourselves the 'WESU Band', as in the 'Who Ever Shows Up,'" identified Lamb, who when not strumming his mandolin vigorously, conducts "Angel (medical) Flights" as a pilot in and out of nearby Smyrna Airport. "I'd estimate we've been playing music on Wednesday afternoons here at the Sam Davis Home for the past two years."
Guitar man Billy Knight of Smyrna is also a pilot.
"The pilot thing and music are the common threads that brought us all together," Knight credited. "Larry Smith is also a pilot. I formerly did Angel Flights. In fact, Paul Lamb is on an Angel Flight today, carrying someone for medical treatment in another state."
How each music maker's instrumentation came about is as interesting a story as the music is good.
"When I wanted to make a step up in improving my music, I began looking for a better mandolin on the internet," Lamb accounted. "The mandolin that first caught my eye, is a Gibson made right here at home in Nashville ... and it's signed by (professional musician) Danny Roberts, who plays with the Nashville Grasscals. I got a deal I couldn't refuse."
Meet Nashville resident Ray Harvey and his stand-up big Bass that was constructed more than 100 years ago in what is now Czechoslavakia.
"It's so old, it was made in The Bohemenian Kingdom in the early 1900s before it became known as Czechoslovakia," accounted music historian Harvey.
Harvey doesn't know when or how the big instrument made its way across the ocean to America: "I bought it from a blues musician several years ago up in Galesburg, Ill. He had two stand-up bass, and needed to get rid of one."
How impromptu is the group?
Smyrna insurance man Derrick Raborn was late for a recent afternoon of music making.
"That's a good looking guitar you have there," guitar picker Knight picked up regarding Raborn's music making instrument.
"Yes, it's new to me, and made of Rosewood," accounted acoustic guitar man Raborn.
"It sure has a good sound, made out of that Rosewood," added Knight.
"It cost me $500," Raborn registered.
In between songs "Jambalaya" and "Ki Liga" penned by the late great Hank Williams, Raborn permitted Knight to strum a while on his new guitar.
"We also play period music that goes back to the Civil War," Lamb noted meekly.
Music Sam Davis may have heard personally before he became a hero when he was hanged in Pulaski because he would not divulge information about fellow Coleman Scouts to the Union Army.
At this point, guitar man Raborn became a vocalist when he jarred down on the notes and words of "Will the Circle be Unbroken" penned by the late D.P. Carter, who helped usher in the "Big Bang (era) of Country Music" during the early 1900s over in Bristol, Tenn.
"I was standin' by my window on a cold and cloudy day," Raborn vocalized some of the historic song's lyrics. "When I saw that hearse come rollin' for to carry my mother away.
"Will the circle be unbroken? By and by, Lord, by and by."
Raborn had to leave the session early.
"I've got business to take care of, which can greatly interfere with my music-making," Raborn noted grudgingly.
And their music is free of charge.
"Last week, I think we played music for an estimated 2,500 children who came to tour the historic Sam Davis Home," Knight noted as his right foot tapped out in rhythm to the notes of "Five Pounds of Opossum" being vocalized by Lamb: "I've got five pounds of 'possum in my headlights tonight ... If I can run him over, everything will be all right."
"That song always brings tears to wife Cathy's eyes," commented Lamb, who was asked if it's possible to make music without tapping his foot.
"Nope, you gotta tap to keep the time," Lamb verified. "I'm a right-footed toe-tapper."
And their music plays on ... seemingly in rhythm with the golden leaves slowly drifting through the air from the big old oak trees that provide canopy cover over the Sam Davis grounds.