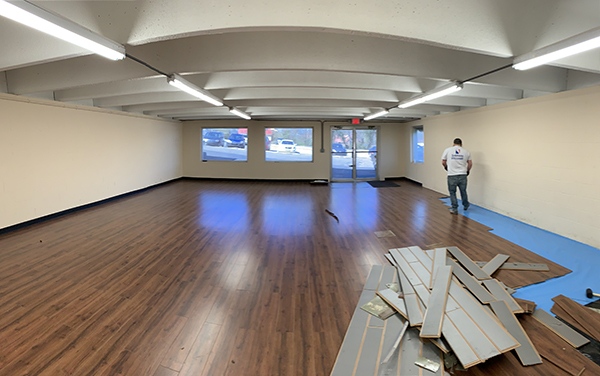 Half Hill Farm began construction on a hemp testing and supercritical CO2 extraction lab on Wednesday at their Woodbury location. The lab will be one of only a few such facilities across the state.
Hemp farmers and manufacturers will be able to send crop or product samples to the lab for required testing to ensure quality and state compliance. The expansion will also help integrate Half Hill Farm's partnered indoor hemp grow operations with production of high quality supercritical CO2 extractions for food, beverage and supplement makers.
"Bringing this healing plant to the people and keeping the value of the crop close to home is important to us," said co-owner Christian Grantham. "Tennessee is ready to lead in this growing industry, and we are proud to keep this investment in Woodbury."
This year, more than 2,700 industrial hemp grower licenses were issued to farmers by the Tennessee Department of Agriculture. The state's chapter of the Hemp Industries Association, the lobbying arm for farmers and industry stake holders, is now the largest in the country.
"Hemp is going to change our country," said co-owner Vince Oropesa. "What I see it do for our customers will make a believer out of anyone."
Since many customers use CBD products for personal health reasons, Half Hill Farm created partnerships to monitor the entire growing process from seed to flower harvest. The new lab will take those select buds and prep them for sale or extract them into oils.
"Our commitment to health and wellness runs deeper than the buzz of hemp," said co-owner Scot Smotherman who is leading the farm's hemp growth. "Being involved in the entire growing process all the way to extraction is critical to controlling quality."
Half Hill Farm was the first certified organic farm to grow hemp in Tennessee. They are a licensed industrial hemp grower and processor and permitted manufacturer making CBD hemp products in an FDA registered facility under Good Manufacturing Practices. The farm got its start making mushroom extracts that are used across the country by cancer patients as adjunct therapies in consultation with a doctor.
Half Hill Farm recently opened two new health and wellness stores operating as the Wellness Emporium in Bell Buckle and Woodbury with plans to open two more this Spring. Their beverage and tonic manufacturing expansion late last year now has their products in 15 stores in Middle Tennessee with plans to expand for distribution later this year.
In addition to their popular functional beverages, mushroom extracts and apple cider vinegar tonics, Half Hill Farm also makes quality CBD hemp oil extract blends in 500mg, 1000mg, and 2500mg formulas and a 1000mg full spectrum CBD hemp topical salve.
The new hemp testing and extraction lab will be operational in the Summer. You can follow Half Hill Farm's progress on FaceBook.