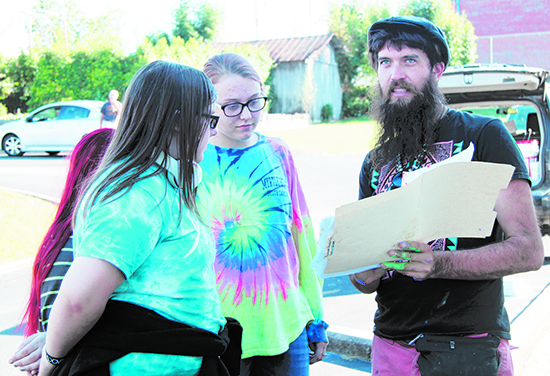 A new, large and colorful mural now graces the side of a building in downtown Woodbury.
The mural was designed and painted by Noah Church, a professional muralist who, among other things, paints floats for the annual Mardi Gras event held each year in New Orleans.

It is painted on the wall facing east across from First Bank in the building owned by the Cannon Courier.

"I love doing public art because you get instant response from people," Church said. "I've had many people stop by and tell me how much they appreciated it and I got to meet people and interact with them and see how important art is to everybody and how they genuinely appreciated it and how there is a need for it and how it brightens up their day."

Originally from Louisville, Ky., Church now resides in New Orleans. He said painting floats is a year-round project, but he does get to travel to other places to work.

"I try to make work in other places," Church said. "I spend a lot of time here in Woodbury. I have a lot of friends here."

The mural project received a majority of its funding from the Tennessee Arts Commission's Creative Placemaking grant program. According to Neal Appelbaum with the Cannon County Arts Center, other funding was provided through private donations.

"Like the Turtle (on Doolittle Road), this project was funded 80 percent through the Tennessee Arts Commission's Creative Placemaking grant program," Appelbaum said. "TAC generates grant funds for these projects through the statewide sale of specialty license plates. The remaining 20 percent is funded through private donations. Like the Turtle, the private contribution portion is being made by Chinkapin Craftstead, Inc., a new arts not-for-profit located in Cannon County."

Appelbaum said the mural is part of an ongoing effort to bring public art to Cannon County.

"Once the Turtle project was approved for funding by TAC, Art Center staff looked for other art installation opportunities around town. A mural made sense and could involve high school students in its production," Appelbaum said. "Noah Church, long time muralist, is a regular visitor to Cannon County. I asked him to propose a design that would be broadly appealing to locals and tourists. We considered various possible sites around town. The east wall of the building owned by Ron Fryar of the Cannon Courier had the most visibility and Mr. Fryar was supportive from the outset."

Fryar said he was excited about the project from the beginning.

"I thought it would be great for the community to bring some beauty and color to downtown Woodbury," Fryar said. "We are glad for all of the positive response the mural has received from the public and happy to have been able to contribute to its creation."
Church said one of the things he enjoyed the most about doing the mural was working with young artists in the community.
"Working with the high school students was great because I think the mural arts is a very valid career option and it's on the rise," Church said. "There are programs and grants popping up all over the country and I think it's great to show high school students that it is possible that you can make a career out of art, you don't have to be a starving artist."
Church said he would like to see more art projects like the turtle and mural in Woodbury and Cannon County.
"The best part about this was seeing the public's reaction to it, how much they appreciate it. I got to see people's eyes gleaming when they first saw it. It shows there is a place for art in everyone's life. I think there is a need for more public art in this city," he said.