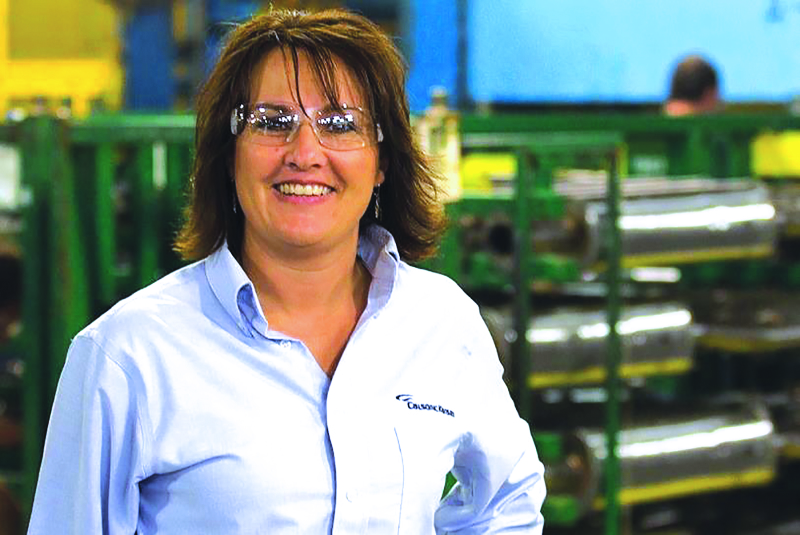 What sets Calsonic Kansei's Kim Williams apart from the 100 Leading Women in the North American Auto Industry?
Simple. It's her Cannon County roots.
"I have had many folks tell me it's amazing that I'm from Short Mountain and have had such great achievements," Williams said.
Kim currently resides in the Gassaway community. She attended Short Mountain Elementary School and is a 1990 graduate of Cannon County High School.
"I'm very proud of my Cannon County education," said Williams, adding she wants to encourage our young folks to work hard and pursue their education.
As vice president of modules manufacturing and quality for Japanese supplier Calsonic Kansei, Williams manages a $250 million manufacturing budget that yields $3 billion in component sales for the North American operations. Williams calls herself a simple country girl who lives on a Tennessee farm riding horses and raising cows in her off hours. But she earned her technical management skills at General Motors' Saturn unit, and launching production lines for GM Powertrain. She was the first woman to become a director at Calsonic Kansei globally.
"Long story short I have had much success in my career and recently was awarded '100 Leading Women in the Auto Industry' by Auto News. I received a prestigious award in Detroit MI alongside many powerful women in the auto business, including GM CEO Mary Barra," she said.
Williams was along the women featured in a recent edition of Automotive News.
"A comparison of the 2015 and 2010 Automotive News lists of 100 Leading Women in the North American Auto Industry confirms that the status of women in the industry has improved. There are six CEOs among automakers and suppliers on the list this time, up from two in 2010 -- the last time the list was compiled. Among the 2015 honorees, 73 have executive officer titles or are owners of their companies. That's up from 63," said Mary Beth Vander Schaaf, Automotive News managing editor and editor of the special issue.
The 2015 class of Automotive News' 100 Leading Women in the North American Auto Industry emerged from a months-long nomination and judging process that attracted hundreds of entries from the United States, Canada and Mexico.
"Our selection committee made many difficult decisions," said Vander Schaaf. "The talented, powerful executives on this list are at the forefront of thousands of successful women in the auto industry."
For Williams her entry into the automobile industry came easy.
An only child, Kim's father and uncles had a strong influence on her early life and education.
"We lived in Illinois when I was a kid, where my father worked for Caterpillar, and he got laid off. So he used to fix cars for people. I was always helping him in the shop, getting him the right wrench and watching. I always wanted to be around cars," she said.
Her uncles also contributed to her interest in things mechanical.
"My uncle taught me me how to double-clutch the tractor when I was 8 and we were bailing hay. That kind of training allow me to grow up believing I could do anything," she said.
Those experiences led to a degree in Industrial Engineering Technology from Tennessee Tech.

Before she graduated from TTU, she began work at SW Manufacturing in Smithville as a quality engineer. That company made seat tracks and window regulators for Mitsubishi and Toyota.
Her big break came when she was hired as a quality engineer at the Saturn (GM) Plant in Spring Hill.
"It was a great training ground," she said.
But the Saturn job lured Williams away from Cannon County to the Lascassas area for 14 years to be closer to her job.
"Eventually raising three kids, I longed to move back to Cannon County and changed careers to work for Calsonic Kansei headquartered in Shelbyville," Williams explained.
Now the Williams family lives on a farm in Gassaway. Her husband's name is Marty and her children are Macy and Molly and T. Wayne. Macy and Molly are students at Tennessee Tech. T. Wayne is a student at Short Mountain Elementary.
"I'm married to my grammar school sweetheart. I met him when I moved to Tennessee 30 years ago and we've been married 21 years," she said.
"We live on a farm far out in the country. We have cows. My parents live about a half mile down the road from us and my in-laws across the road from us," Williams said. "I'm an only child and a career person, and my parents have always helped me with my children. I wouldn't have the career I have today without their help."
Country life is perfect for the Williams family.
"I live simply. I like being at home," she said.
"My career has taken me to Europe, Mexico, China and Japan multiple times. I was in Japan in March 2011 during the Tsunami and was on a bus, on a bridge over water - it was a terrifying experience to live through. Every time I travel, I am glad to see the hills of Cannon County upon my return!" Williams smiled.