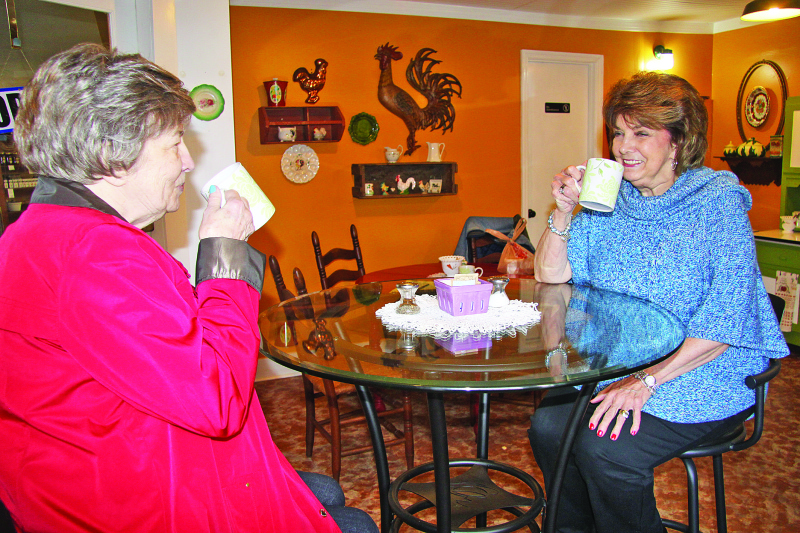 MIKE WEST
Courier Editor
Got something sweet in mind?

Then head for Southern Charm Cafe and Bakery, located in Woodbury's Old Feed Store Antique Mall.

Tammy Garner is owner of the new shop which fills the spot once occupied by The Gathering Place owned by Debbie Vaughn.

"Debbie offered me a chance to try it before I bought it and I loved it. It was a turnkey operation and that was exactly what I needed," Tammy said.

A nurse for 36 years, Tammy always wanted to be a baker just like her grandmother who was renowned for her tasty recipes.

"I couldn't have done it without Debbie's help. She had been praying for someone to take it (the cafe) over and I had been praying for a turnkey operation. Vrrrroom! It was serendipity," she laughed.

Tammy and her husband grew up in Nashville, but she had family in Cannon County.

She had worked in many nursing jobs ranging from pediatrics to intensive care.

"I was really ready to retire and I never looked back. This has always been my desire," Tammy said.

Shelia Kelly works the counter at Southern Charm Cafe.

"We had never met, but she has been perfect. Shelia's an introvert and I'm an extrovert," Tammy said.

"We flow," laughed Shelia.

Working in the restaurant business is a change for Tammy's family.

"Nobody in my family has ever worked in a restaurant and now my daughter has opened a coffee shop in Hartsville, Ala, right off the Interstate," she said.

As for her own restaurant, Woodbury's Southern Charm, the specialty is homemade baked goods like Blue Ribbon Pie, French apple tarts, coconut cream pie and assorted cakes.

The cafe is open Monday through Friday from 11 a.m. to 2 p.m.

It features daily menu items like salads with homemade dressings, quiches, soups and sandwiches.

The sandwiches include Reuben on rye, chicken salad on croissant, grilled cheese with chips included.

Soup options change weekly but may include tortellini, potato, creamy Rosemary chicken, pasta fagioli, chicken noodle and tomato basil.
"We proudly serve Just Love Coffee" along with tea, fruit tea, soft drinks and Mexican hot chocolate, Tammy said.
Back to deserts and the bakery part of Southern Charm...
Southern Charm serves old-fashioned Coca-Cola cake. "It's my grandmother's recipe and has a unique flavor. It just doesn't taste like a regular chocolate cake," she explained.
The French apple tart and the Blue Ribbon Pie are both award-winning recipes.
Tammy bakes cakes for customers, including elaborate wedding cakes and birthday cakes.
"People just tell us what they want and we do it," she smiled.
For more information, call 615-563-3663. Carry out orders are available by calling or faxing 563-SOUP (7687).
The cafe is located inside of Old Feed Store Antiques at 310 West Water St.