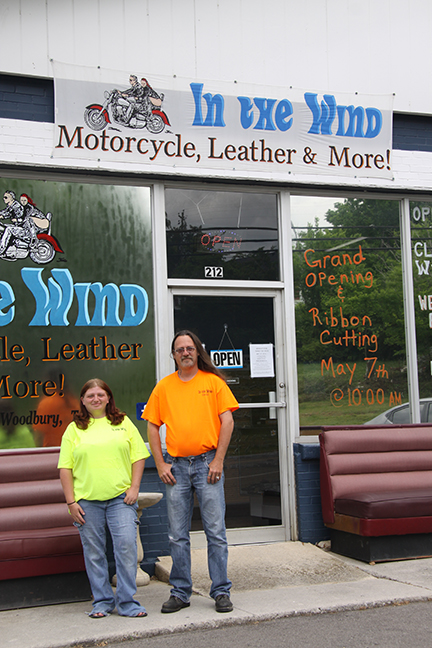 Starr McWhorter and David "Wolfpatch" Smith welcome customers.
The Cannon County Chamber of Commerce welcomes a new chamber member as well as new business owners to Woodbury. Owner Barbara McWhorter
purchased this leather shop that had been in business for 15 years and moved it to 212 McMinnville Hwy. in Woodbury.
In The Wind features a full line of leather clothing, leather purses and wallets plus many motorcycle accessories.
Barbara and Wayne invite you to attend their Grand Opening and ribbon cutting on Saturday May 7th at 10:00 am, enjoy refreshments, register for a great door prize and welcome this business to Woodbury.
In The Wind leather shop is located at 212 McMinnville Hwy., Woodbury, Tn. Store hours are 9 am to 5 pm everyday except Wednesday, they are closed.
Contact number is 1-615-319-3647 or E-mail inthewindleather@mail.com