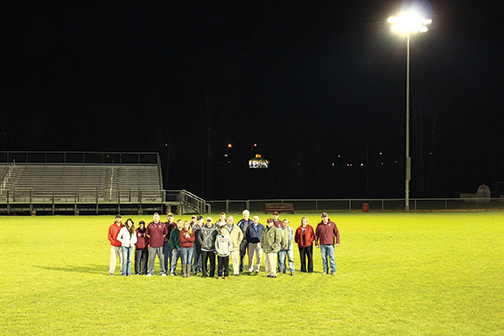 Bright lights are now shining at Fred Schwartz Memorial Field.
Thanks to an Oct. 9 vote by the Cannon County Board of Education, a series of 50 candlepower lights were installed on metal poles with underground wiring. Reynolds Lighting of Dickson was awarded the $140,500 contract for the lights.
The contract, approved by the Cannon County Board of Education last Oct. 9 called for 50 candlepower lights installed on metal poles with underground wiring. The contact also included a 25-year maintenance plan. Reynolds bested a $178,000 bid made by Knight Lightning of Russellville, Ky.
Not only are the new lights brighter, the are more directional and focus their beams on the field without stray lights hitting the neighborhood surrounding CCHS.
" Basically, we gathered down at the football field ... to enjoy the new lights that we all fought so hard to get. The construction company had them all connected and needed to do a 'burn in.' That is when the lights are initially turned on they must stay on for an extended period (8 hrs approximately) to make them function properly," said Ed Motlow, former Boosters Club president.
The lighting engineer also showed Coach T.J. Daniel, Principal Mike Jones and Education Director Barbara Parker how to turn the lights on and off.
Several members of the booster club were present with coaches, administration, county Commissioners Brent Bush and Adam Melton along with former player Billy Motlow.
After the lights were turned on, everyone assembled on the 50 yard line for a group photo demonstrating how bright they are.