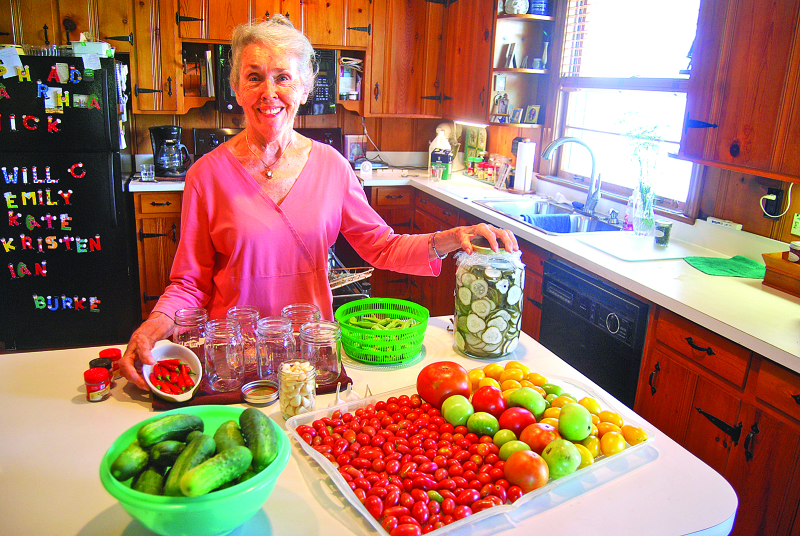 KEN BECK
The Cannon Courier
When it comes to growing blue ribbons, Cannon County native Fay Huddleston has a green thumb.

A food preserver from an early age, she has been racking up blue ribbons for canning and drying fruits and vegetables at the Wilson County Fair nigh on to 23 years. She's won so many blue, red and white ribbons, she's lost count, but the total may number more than 1,000. And that doesn't include those she captured at the Tennessee State Fair.

Fay, a member of the Wilson County Masters Gardeners and the Twin State Iris Society, and her husband, Charles, live on the Huddleston home place, a century farm several miles north of Lebanon that has been in the family since 1897. In their garden and orchard, they grow green beans, squash, cucumbers, beets, peppers, cherries, blackberries, strawberries, peaches, apples and grapes.

"If it grows in Tennessee, it probably gets canned here," she said from the kitchen where she does her canning and dehydrating. "We've always had a garden. When we lived in Hendersonville, our yard had so many trees there was no sunlight, so we had a farm on Coles Ferry Pike and would drive over on Saturdays.

"We taught our children. They worked in our garden. So I passed on to my children what I learned from my parents and grandparents."

After raising their three sons in Hendersonville, the couple moved to Wilson County in 1992. In 1993, Fay began entering her home preserves in the fruit and vegetable divisions of the county fair. In 2010, she entered 110 categories and netted 34 blue ribbons, 18 red ribbons and 22 white ribbons and received a check for $613.

Her ribbons from 2008 stretch high across the top of two walls in her kitchen. They include 20 blue and 15 red ribbons she won at the Tennessee State Fair.

"Each year I would put them up. I finally got tired of taking them down. I stopped about three years ago," she said.

Born to Marie and Taft Sadler in Woodbury, Tenn., Fay grew up with three brothers on a farm near the Cannon County communities of Parker Hill and Mooretown.

"If we ate it, we raised it," she recalled. "The only things we bought were coffee, tea, sugar and baking soda. If it was in the dirt, we had to grow it."

She gleaned her canning and dehydrating skills from her mother and her grandmother, Minnie E. Simmons.

"I learned very early. At first I stood on a stool and washed cans," said Fay, who still has that first blue ribbon for blackberries that she won as a junior high school student in about 1954. "We made jams and jellies. We canned green beans and tomatoes. We froze some things. We canned some meats.

"Dad was no slouch when it came to good eats either," she added, as Mr. Sadler was known for his country hams, which many a local politician sampled at their dinner table.

"For our income, we sold milk to the Murfreesboro Cheese Company. We also raised vegetables to sell to the market in Woodbury. We were known to have the first tomatoes on the market. I never ate a perfect tomato on the farm. My mother called them culls. Even today, I hate to cut up a perfect tomato."

After attending high school for two years in Woodbury, Fay graduated from Central High in Nashville and then earned a nursing degree at St. Thomas School of Nursing. She used those skills for 27 years at Nashville Memorial Hospital.

Her husband grew up in Lebanon, one of 10 children born to George and Viola Huddleston. Charles, a 1951 grad of Lebanon High, served four years in the Navy, got his engineering degree at Tennessee Tech and then enjoyed a lengthy career with the Army Corps of Engineers.

Married for 57 years, the couple has three sons: Charles, Barton and Jonathan. The first two are doctors and the latter an attorney. Fay and Charles also have nine grandchildren, all of whom Fay taught to can and dry food.

Among the most important lessons she learned from her mother, Fay shared, "You don't want to can anything that's overripe. You want to make sure your fruit and vegetables are fresh. My mother said, 'If it's not canning quality when you put it in the jar, it won't be canning quality when you take it out.'"

One other cardinal rule her mom taught her was the necessity of proper sterilization, and she also warned her about overcooking and not allowing anything to go to waste.

Fay advises those new to home canning, "You want to go strictly by the Ball book ['The Ball Blue Book of Preserving']. It's important to have the same head space on a jar. If you don't have proper head space, the lid can pop off in your pressure cooker. Your food can dissolve. For the proper seal you need proper head space, and this book will tell you."

She also regularly consults "Farm Garden to Kitchen," a cookbook published by the Wilson County Master Gardeners Association in 2004, which, alas, is out of print.

One day last month, she pickled grape tomatoes, large tomatoes, yellow tomatoes, cucumbers, okra, garlic and red pepper and sliced sweet pickles. She often uses sundried rosemary and fresh dill from her garden while making her pickles.
A superb organizcr, she keeps a list of everything she cans, the date and the size of the jar.
For many years, Fay and her brothers taught food preservation and pioneer ways to the public, especially schoolchildren, at sites such as the Sam Davis Home in Smyrna and Cannonsburgh in Murfreesboro.
Now, she and other members of the local Master Gardeners group produce an annual Farm Day for elementary kids at the Ward Agricultural Center where the children learn about farm life and get a close-up view of farm animals.
As for the Wilson County Fair, Fay has scored a couple of best of show trophies in the fruit and vegetables sections and last year picked up one for her pickled green beans.
Pickles remain her favorite category. In the fair's food preservation division, class 2-pickles-canned, there are 19 categories (including bread and butter pickles, dill pickles, sweet pickles, peach pickles, pickled pears, pickled crabapples, pickled onions and pickled green tomatoes), and Fay normally enters each category.
This time round, she says, "I'll definitely do pickles and jams and jellies and probably enter relishes and vegetables and dehydrated vegetables and fruits and dehydrated herbs."
For those attending the Wilson County Fair and seeking pointers on gardening and canning, Huddleston will be in the Demonstration Garden 5-10 p.m. Monday, Aug. 22, to show the garden and share information.