Following a national search for a new Executive Director, The Arts Center of Cannon County Board has hired Interim Executive Director Neal Appelbaum to fill the position.
"Neal's business background was the key deciding factor in his favor," said Board President, Tim Spry. The Arts Center has grown from a volunteer community theater into a multi-faceted arts facility. Having an art gallery, craft shop, fine art collection, record label, and theater in an 18,000 square foot facility, there are many daily business and planning decisions. His background in accounting and management are the skills needed today.
Neal Appelbaum moved to Cannon County 13 years following a career in the investment industry. He attended Oberlin College in Ohio receiving a BA in economics. While there he also studied art history and studio art, working for a term in New York for internationally recognized sculptor Michele Oka Doner. At college he ran the clay studio.
Since moving to Woodbury, Neal has served as Cannon County Chamber of Commerce President and currently as Vice Chairman of the Industrial Board. Regionally, he has served in various capacities for the not-for-profit Stones River Watershed Association. For four years he has been a grant reviewer for the TN Arts Commission.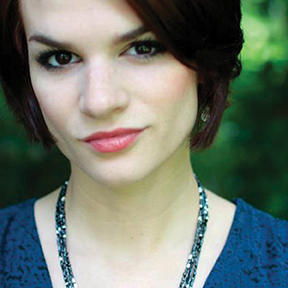 Brittany Goodwin
"The previous 8 months as Interim Executive Director have brought into contact with many members of our audience, musicians, area actors, local and regional artists," stated Neal. "It's been a whirlwind of new faces and great people." "What I focus on each day is – what would Middle Tennessee be without the Arts Center?" It is that vision that motivates the Arts Center to constantly strive to bring the best of visual art, music, theater, and food to its beautiful rural setting.
The second new hire at the Arts Center is Brittany Daniels Goodwin. As a teenager she appeared on stage at the Arts Center. Just a few months ago she performed again here in the role of Lily in The Secret Garden.
Brittany Goodwin, professional performer and co-owner of film production company Every New Day Pictures, will be joining the Arts Center team and integrating her film and performance background into the Arts Centers' offerings. She plans to grow the educational program at the Arts Center by teaching private and group lessons for actors and singers of all ages and levels whom are interested in enhancing their performance skills.
Her film background will allow her, along with her husband and photographer John Goodwin, to create high definition media to further promote the Arts Centers' facilities, events, and theatrical productions to new and current patrons. Additionally, Brittany's first feature film, Secrets in the Snow, which she wrote, directed and co-produced along with John, is currently available nationwide with a sequel releasing later this year. She hopes to work in partnership with Every New Day Pictures and the Arts Center of Cannon County on future film projects.