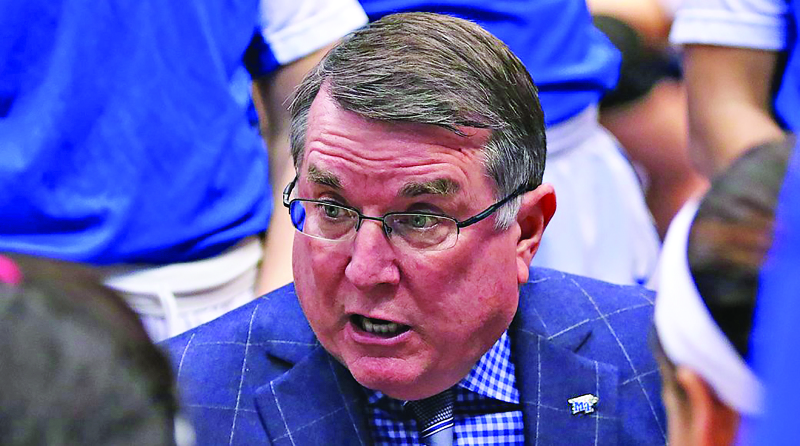 Before Middle Tennessee women's basketball coach Rick Insell became a hall of fame basketball coach, he grew up in Woodbury, Tennessee.

Insell, who was recently inducted into the Women's Basketball Hall of Fame, his sixth hall of fame nod, became a legendary high school coach in his 28 years at nearby Shelbyville Central before moving on to MTSU, where he's built a perennial NCAA Tournament contender in his 12 seasons.

His Shelbyville High School teams won a record 10 Tennessee Secondary Schools Athletic Association (TSSAA) state championships at the Class AAA level, and two USA Today national championships, and at one point won 110 consecutive ballgames. Insell's record there was an incredible 775-148, and he also added three AAU national championships while a high school coach.

At Middle Tennessee, his Blue Raiders have made postseason tournaments in every season Insell has been there, including nine NCAA Tournament appearances. His record currently stands at 292-94, and the Raiders are yet again fighting atop the Conference USA standings this year.

But before his success on the basketball sidelines, Insell was a kid growing up in Cannon County.

"I couldn't have been brought up in a better place than Woodbury, Tennessee," he said. "The people there are just absolutely unreal, and they're genuine. You just get the feeling that they're happy to see you there, and they're happy you've been successful. You don't have that around this world much."

He was maybe 6 or 7 years old, he guesses, when he was first intrigued by a basketball game. A teacher took his class to watch the school's team take on another local county school, and from there he was hooked.

"I loved it. I remember going home and telling my dad about it and telling my mom, and Mom talked about how she had played basketball," Insell said. "That next Friday night, Dad took the family to a high school game and we sat on the front row. I don't know if we ever missed another game when I was in grammar school or high school.

"Basketball in that community meant something. You didn't even have to be a player; everybody was excited. Am I surprised I had a love for the game? Absolutely not."

When Insell entered the sixth grade, he yearned to put his passion for the game onto the court. The problem was his grammar school coach, Hal Morris, didn't typically allow sixth-graders to try out.

But, flashing the same determination and passion that have made him a great head coach, Insell found a way to get onto the team by knocking on the coach's door and stating his case.

"I knocked, and he came to the door," Insell said. "I told him who I was and that I wanted to try out for the team, and his response was that they didn't allow sixth-graders to try out. I was a little defeated ... but I kept shooting and working out in the backyard - I wasn't very good, but I loved the game.

"I saw Mr. Morris again and went back to his door and knocked, and he said again they don't allow sixth-graders to try out, so I left. One day I was in class, and my teacher told me to go outside because there was someone who wanted to talk to me. It was Mr. Morris, and he said they were having tryouts that day if I wanted to try out. I made the team as the only sixth-grader."

Morris eventually left the school while Insell was still there, and his replacement was instrumental in Insell's future coaching career.

Jay Cole, a 2015 Cannon Courier Sports Hall of Fame inductee, took over at Woodbury High School in 1968. He was the first coach to make Insell see he could have a career in coaching.

"Jay Cole was really the one who I watched, how he coached and how positive and passionate he was about coaching and about the game," Insell said. "I thought to myself after watching him, 'I want to do this.'

"Usually it was a football coach that got to coach basketball too ... basketball was just a way to get the football players in shape. Jay Cole was a basketball coach ... and he was close with [former MTSU basketball coach] Jimmy Earle. That intrigued me to be around and nurtured my desire to be a coach."
Boys' basketball coaches weren't the only ones who had a profound effect on Insell, either. He got the chance to learn from legendary Cannon County girls' basketball coach Robert A. Harris, who won the school's only state championship in girls' basketball in 1989 in Class AA. Insell also won a state title that year, his second, in Class AAA with Shelbyville.
"[Harris] became not only a mentor, but he was a friend," Insell said. "I had a lot of people like that around me that kind of influenced my life."
The hard-working mentality he learned from his coaches in Cannon County, plus the networking opportunities he was afforded when he was later applying for the jobs at Shelbyville and MTSU, laid the foundation for the hall of fame career Insell has worked to build.

And, even through all of his success, he's never lost the passion he developed in his early days in Woodbury.

"Many people ask me if I still have the same passion, the same feel for what I do when I first got started. I have more now," he said.

"One of the things I felt like I could do here and haven't done yet, though we've knocked on the door a time or two, is get to an Elite 8. I feel like Middle Tennessee have the opportunity to do that because of the attitude people in the mid-state area have about women's basketball. It's not something they put on the back burner, it means something to them."