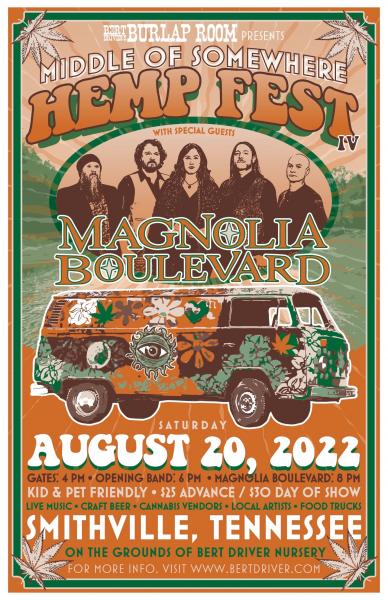 The Fourth Annual Middle of Somewhere Hemp Fest, a celebration of Tennessee cannabis industries, sets up in Smithville this Saturday, August 20, on the grounds of Bert Driver Nursery.
Anyone interested in hemp, a variety of the cannabis plant, and its many uses will have an opportunity to meet Tennessee growers and producers of certified hemp products. "Since we started the Hemp Fest the hemp industry has seen some consolidation even as the number and variety of hemp products has grown," notes Bert Driver, event organizer and host.
"Hemp Fest is an opportunity to talk and learn about this organically grown plant and its many uses. We hope to have someone from the State Department of Agriculture on hand to answer questions about hemp and its potential as a viable cash crop for Tennessee farmers."
Hemp Fest offers much more than an education in all things hemp, however. Since its inception the event has been a family and pet-friendly festival set within a scenic, seven-acre nursery. Area artisans and crafts men will exhibit their latest work, a Tarot card reader will be on hand, and representatives of Short Mountain Distillery will talk about their upcoming GreenWay Music Festival. The Burlap Room Tap Room is where attendees can refresh themselves with a selection of the best beverages from local craft breweries, and when it's time to eat, they can choose between the Filipino-style Grace's Lumpia food truck or Tio's Taco Truck.
The highlight of the festival are two concert performances. Singer/songwriter Sam Lewis kicks off the night of music when he takes the stage at 6pm. Then at 8pm, Magnolia Boulevard, out of Lexington, KY caps the festivities, playing what Driver describes as "a very Southern-influenced Allman Brothers-Tedeschi Trucks vibe."
"The bottom line is Hempfest is a great way to learn about and support the hemp industry and enjoy some great music with friends and family on the grounds of our scenic nursery," says Driver.
Gates for the Middle of Somewhere Hemp Fest IV open at 4pm. Tickets are available at https://burlaproom.eventbrite.com, or in-person at Bert Driver Nursery. Capacity is limited.
For more information, head to www.bertdriver.com, follow us on Facebook: @bertdriverburlaproom, and Instagram: @burlaproom