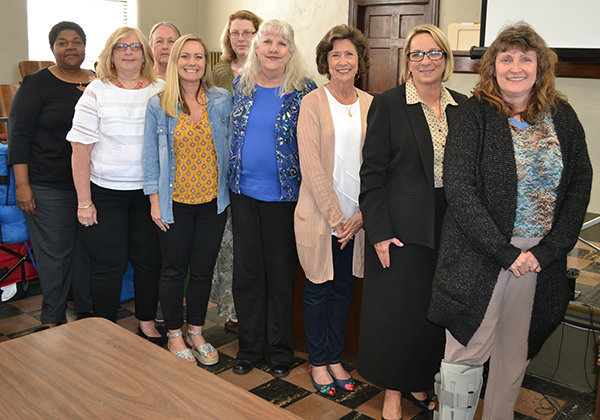 Adverse Childhood Experiences (ACE) can impact the building blocks of a child's brain and thought process throughout one's life. 42 Cannon County community leaders representing 16 professions and agencies, joined together for an ACE educational seminar at the Cannon County courthouse on Wednesday, May 15th.
Tennessee is a leader in recognizing problems in young age children and affecting change before a child becomes involved with the court system. When interviewing with youth, it is best to ask, "what has happened to you?" rather than "what's wrong with you?"
Presentor Kristi Paling, TN Commission on Children and Youth (TCCY), focused on caring for at risk children with mental health or other challenges. Through Tennessee System of Care, community-based services and supports addresses the needs of children to help them function better at home, in school, and the community. Tennessee's System of Care is family-driven and youth-guided to facilitate access to appropriate services and supports.
The following professionals were represented at the ACE educational seminar sponsored by TCCY and Cannon County Juvenile Court: school system, police and sheriff departments, S.A.V.E., CASA, Child Advocacy Center, County Mayor, health department, Children's Services, probation, lawyers, Substance Abuse Coalition, Head Start, school resource officer, and foster care review volunteers.
Photo: Front Row: (L to R) Donna Davis-Mid-Cumberland Head Start, Juvenile Judge Susan Melton, Glenda Terry-TCCY, June Roseberry-CASA Volunteer, Kamille Smith-CASA Executive Director and Kristi Paling-TCCY. Back Row: Laritha Fentress-System of Care Across TN. (SOCAT/TCCY), Catherine Player-Juvenile Court, and Attorney Meredith L. Rambo. Photo by Donna Nichols