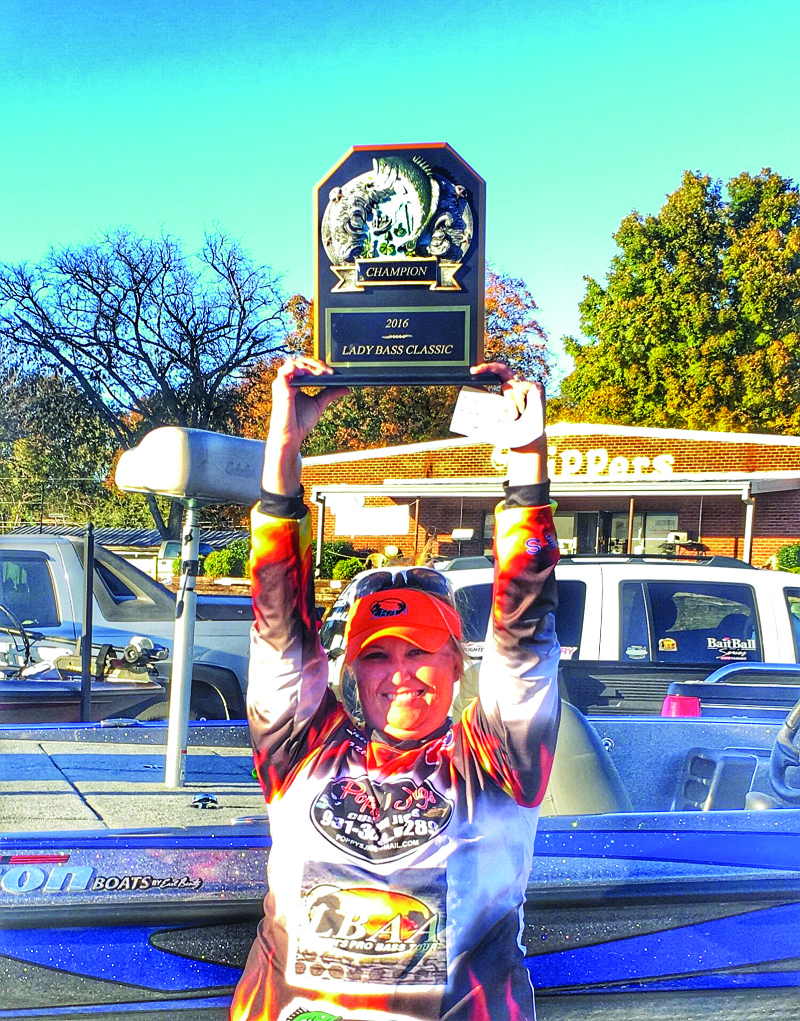 DeAnna Lovvorn from Bradyville wrapped up a great fishing season by winning the Lady Bass Angler Co-Angler Classic on Old Hickory Lake in Hendersonville.

Overall for the year, DeAnna finished third in points and only missed winning AOY (Angler of the Year) by 17 points, which would be less than 1lb of weight. Although AOY was her goal and would have been a privilege to win, she says she just feels blessed to be one of the top 30 best female anglers in the world to qualify for the Lady Bass Anglers Classic.

This was her third time to qualify for the event. The first two had poor outcomes and she was determined to make the outcome of this one different. The fact that it was in her home state made her even more determined for a better finish. After a very good week of preparation and practice she was confident that she was on a solid pattern and could catch a limit each of the 3 days of the tournament.

Day one of the Classic proved to be very tough on all the anglers as only seven fish were weighed in and none of the anglers had caught their three fish limit. DeAnna blanked with no keepers on day one. That first day saw a significant weather change from the past week of practice during which the anglers saw sunny skies and unseasonably warm temps.
As they blasted off on day one, the skies were dark with occasional rain showers and the temp dropped 15 degrees. The weather change put the fish in a lethargic state and made it very difficult to entice them into biting. After day one she was tied for 6th place with 10 other ladies, who also had no weight.
Day two saw no change in the weather. By midday she had made a significant change in her baits and presentations. After a practice week of great success it is very difficult to make changes, but as the conditions change so does the fish's feeding habits. After all the changes she only managed one keeper. That one fish moved her into fifth place as all the other anglers were also struggling to put together a solid pattern. She gives credit to one of her Poppy's Custom made spinnerbaits for that keeper on day two.

As the alarm went off at 3:30 a.m. on the third and final day she checked her weather app and saw sunny skies and warm weather for the day. She made the decision to change back to the pattern she was working during practice. That change paid off as she came to the scales with a three fish limit, giving her enough weight to take the lead. She had worked hard and could only sit and watch everyone else weigh in and hope that they had not made the correct changes. At the end of the weigh in she remained in the lead by just over one lb.

She would be the only co-angler to catch a limit during the 3 day tournament. DeAnna gives credit to hard work and making the correct decisions and changes during the tournament for her win. DeAnna contributes her decisions to her husband, who told her she must "IMPROVISE, ADAPT & OVERCOME", which DeAnna has written on the sleeve of her jersey as a reminder that being a co-angler you must adapt to your boater. You are at their mercy"

She would also like to give credit and recognize her sponsors, Poppy's Jigs, Backlash Lures, Cal Coast Fishing, Women Fish Too, MC Jersey Nation, all my friends and co-workers who support me, cheer me on, and especially all the advice given, as well as Adient (formerly Johnson Controls) and her newest sponsor, Fish on TN Custom Rods.

After a consistent 2016 season, DeAnna is looking forward to 2017 and new challenges, hopefully improving and building on what she has learned and accomplished in 2016. The LBAA and DeAnna Lovvorn would like to thank the following businesses for their contrabution, Cannon County Chiropractic, Smile Creations , Backlash Lures, Poppy's Jigs and JCI Murfreesboro/Adient.

Anyone interested in becoming a sponsor for DeAnna Lovvorn or the LBAA please contact her at Dlovvorn@hotmail.com or call 615-542-0248.