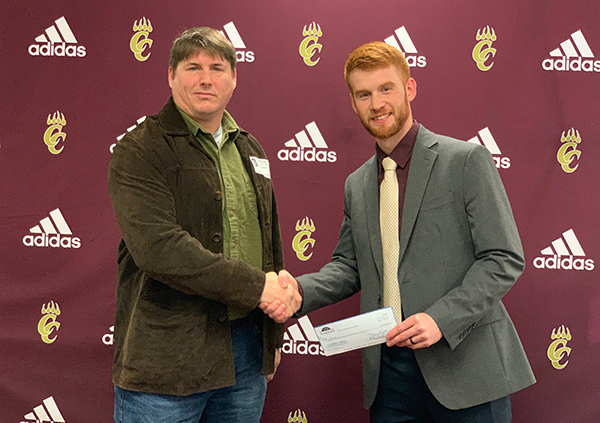 The Cannon County High School Baseball Team will have a facility for the 2019 Baseball Season after all, thanks to a very generous donation received by the Baseball Team, Cannon County High School, and Cannon County Schools.

At a press conference held at Cannon County High School on Thursday, Jan. 10, 2019, Director of Cannon County Schools, William F. Curtis announced a recent development in the six month process regarding the facility.
Curtis stated, "It is my esteemed honor and privilege to announce that Mr. Justin Davis of Woodbury, Tennessee has literally 'stepped up to the plate' and hit the baseball 'out of the park!' Mr. Davis has donated $40,000 to the CCHS Baseball Program to ensure that the dream for a Baseball Facility will be fulfilled for the 2019 Baseball season.
"He has stepped up when the local county government would not and other potential donors backed out. I think of it being like a baseball game complete with strikeouts, foul balls, balks, and have a walk-off homerun at the bottom of the ninth inning! I sincerely appreciate Mr. Davis's generous donation which has been facilitated by Mr. Tim Spry and Mrs. Jeanne Melton of First National Bank of Woodbury."
Davis has lived in Cannon County most of his life since 1988. He played Dixie Youth Baseball in Woodbury then moved up to Babe Ruth. He played baseball at Cannon County High School all four years in high school along with football and graduated in 1995. He went to MTSU for a few years then a semester at ETSU for surveying.
In 2000, his father moved a fiberglass shop to Woodbury and Justin decided to work for him full time. He took over the family business in 2007 and renamed the business Composite Solutions. The business had some up and down years, but in 2011 things picked up and the business has grown ever since.
With the help of its employees along with the Cannon County Industrial Development Board, Composite Solutions was able to move to their current facility in April of 2018. Located at 225 Alexander Drive, the larger and more modern building has allowed their company to take on more business.
"In December 2018, former Industrial Development Board President and current County Commissioner Corey Davenport, informed me about the CCHS Baseball not getting funded for a new training/locker room. I felt this would be a good opportunity to give back to the community that has been so giving to my family," Davis said. "Corey got me Coach Colin Jones's contact info, and we set up a meeting. Once I confirmed with Director of Schools William F. Curtis that everything was ready except funding, I knew it was time to stop talking about it and pull the trigger.
"I enjoyed playing baseball for CCHS but never believed the program was taken as serious as it deserved. I had four different coaches in four years. We always competed because we had been playing since Dixie Youth and some even longer. There were guys that should have played high school baseball, but for whatever reasons didn't. Maybe it was due to the program not getting the backing like the other sports. Perhaps, if we had a locker room with batting cages and pitching areas, this would have allowed us to not just compete, but win the district. I have either been playing on that field or driving by it for 30 years. By looking at the improvements made to the field the past few years, it shows that someone wants to take the team to a different level. I believe this new facility will assist in that endeavor."
Director Curtis stated, "Many others have also contributed to this endeavor including many private donors. The Cannon County Board of Education voted at the August 2018 School Board meeting to give $14,400.00 for concrete work on the facility from the School Capital Outlay fund. The Cannon County Commission voted later in the month to lease the Baseball field area at the County Sports Complex to the Cannon County Board of Education. We are appreciative to all involved in the process and specifically Cannon County Board of Education, CCHS Principal Courtney Nichols, CCHS Athletic Director Matt Cagle, in particular CCHS Baseball Coach Colin Jones and the CCHS Baseball Players, Parents, and Boosters. Coach Jones initiated this project and worked diligently during the entire process for his team and players. He will continue to oversee the construction phase of the project which will begin immediately."

Upon construction, the facility will be named the "Davis CCHS Baseball Fieldhouse Facility" in honor of our benefactor, Mr. Justin Davis, for the use of the CCHS and Middle School Baseball Teams. He will also be throwing out the first pitch of the 2019 Baseball season during CCHS Baseball's first home game on March 11th, 2019 - 5:00 PM versus Cascade, and his Jersey #44 will be retired in his honor.

This facility will aid the CCHS Baseball program tremendously to be competitive in our district and region. The Mission of Cannon County Schools is "Preparing All Students for their Future," and this facility will help to prepare our CCHS Scholar Athletes through our Vision, the New E3 = Engaged in Excellence Every Day. Excellence on the baseball field and in the classroom.