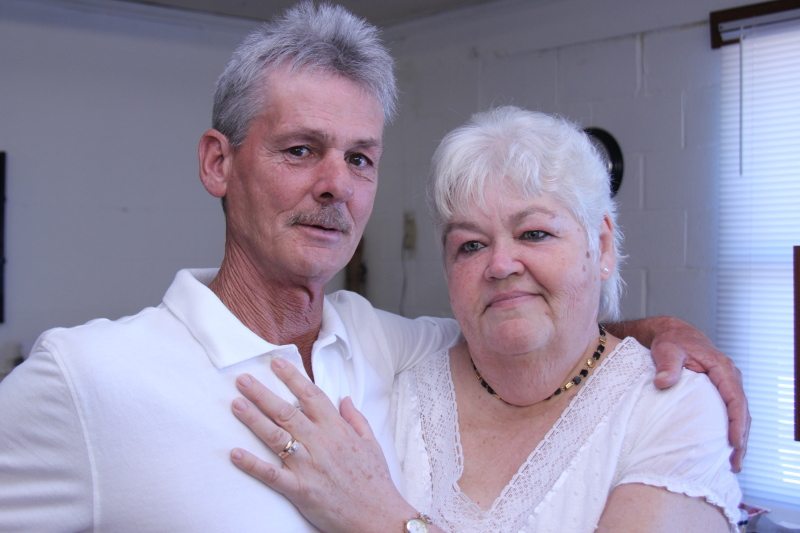 BRADYVILLE - Is chief cook Renee Sissom Smith's beans loaded with romance along with other recipe ingredients white beans are noted for?
It could be, because her cook stove loaded with a big pot of beans is where Donny Smith popped the big question to lifelong friend Renee Sissom - "Darling, will you marry me?"

"It must have worked because the next thing I knew we were getting hitched on the front porch of our new eatery named 'The Crossroads Restaurant,'" Renee noted as she slowly stirred a recent Friday's big pot of beans. "We put the beans on early this morning, in anticipation of the daily arrival of our hard-working logging friends Bobby, Ben and Nate from the Baker Brothers Logging Co."

"Sometimes, the Baker boys eat all three meals a day with us, and they advertise us all over at least three counties," Renee' noted as she tested the taste of her latest load of beans. "We serve hearty portions of catfish and white beans on Fridays, because our hard-working male customers need it for their work duties."

How the restaurant came about is as romantic as the beans, the way Renee explained it.

More than "romance," one could say, was building up in Bradyville ...

"Donny and I built the building together. We've known each other all of our lives here in beautiful Bradyville," Renee noted. "He was widowed, and I'm a divorcee. We started seeing each other a couple of years ago. We started construction on our building here last November," Renee hammered back in time. "We opened on Jan. 16, Martin Luther King Day."

There's more, much more, than just Friday's heaping portions of beans and catfish!

One has to get up mighty early to be the first pre-dawn customer at The Crossroads Restaurant, named for its location touching Hollow Springs Road that intersects with the Thurston Young Road and the nearby Simpson Road.

"That's why we're called The Crossroads Restaurant," Renee' shared. "We start serving at 6 a.m. pronto each weekday, and generally, Tommy Davis is our first early-morning customer, with his daily order of country ham, fried eggs and a cup of hot black coffee."

The new eatery's hours are 6 a.m. to 5 p.m. Monday through Wednesday ... 6 a.m. to 7 p.m. on Thursday, Friday and Saturday.

"Sunday is when family member Lisa Sissom takes over with the hours of 8 a.m to 3 p.m.," Renee' noted. "If she's slammed with customers Donny and I back her up."

More about that regionally-well-known Sissom name later ...

"You can also set your pocket watch each morning with Paul Davenport's arrival," Renee added. "He has two scrambled eggs, two sausages and coffee ..."
Wait, there's more.

"Paul also faithfully orders two strips of bacon for his loving dog child," Renee cooked up. "After that, in comes James Alexander who without fail has three scrambled eggs along with a heaping serving of biscuits and gravy."

"The next faithful early-morning customer, Charles Vickers, could be considered 'Bradyville Royalty,'" Renee noted. "He's the son of the late great C.L. Vickers, the most famous person to ever reside in Bradyville. Charles comes in mid-morning, after he gets through weed-eating for his customers."

Renee and Donny are considering polling their cast of loyal consumers, such as the logging Baker brothers.

"We're considering, praying actually, about naming our country ham breakfast the Baker boys always have," Renee added. "It's a hearty breakfast. We're polling the meal's name to be 'Old No. 7' after C.L. Vickers' famous mule (Old No. 7) that tilled C.L. and Sandy's famous vegetable gardens."

That would likely please C.L., who is at rest in the nearby Thyatira Cemetery.

Renee comes from a long line of Sissoms.

"My father, Ellis, was the logging man of our family," Renee sawed back in time. "His brother, Ed, and other male relatives are known as Cannon County's CSX Railroad Family. There was a recent story in the Cannon Courier about the Sissom men that all worked for the railroad."

For more information about the food, service and goings' on at The Crossroads Restaurant, folks can call 615-765-5225.