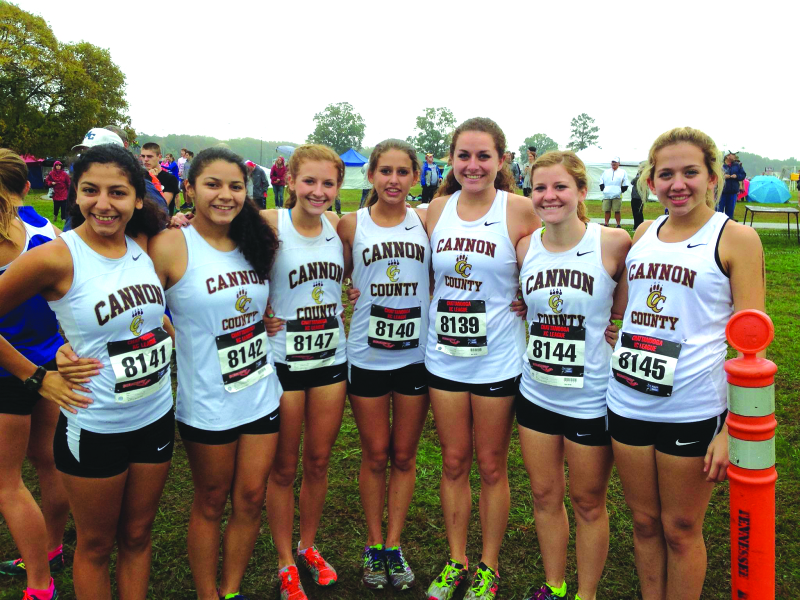 DAVID HUNTER
The Cannon Courier
The Lionettes high school cross country team are roaring back to the state meet after finishing third at the Region 4A-AA event, while the Cannon County middle and elementary teams finished up the season by competing at the state meet in Knoxville.
The Junior Lions and Lionettes made three-for-three in state meet appearances during the short but successful run in program history, while elementary team made the state in their first try.
"It was really exciting just being there with the whole team," Lionettes middle school runner Madison Gaither said. "I thought we did really well."
The state meet was held at Victor Ashe Park in Knoxville in which the team faced a challenging course and the toughest competition in the state. However, the middle and elementary school teams went down a day early to practice on the course, and make final adjustments before the meet the following morning.
"We had a compact course, which was choppy, and hilly," CCJL head coach Brian Elrod said. "It was one of the toughest courses in the state. We were prepared for it, and we did great. We had the ideal conditions for running."
Also, the team was inspired by watching the Disney movie, McFarland, which is a true story about a successful built from scratch cross country program with Kevin Costner playing the head coach.
"The movie boosted us up, because they did the same things we did," CCJL runner Zettie Elrod said. "They make mistakes and they came back from them."
The Lionettes finished 16th overall out of 26 teams with five runners finishing the season on a strong note. The CCJL runners included Zettie Elrod (66th), Amanda Blanco (95th), Hannah Higgins (159th), Lauren Knox (172nd), and Madison Gaither (178th) out of 294 runners.
The Lions was 21st overall out of 30 teams in a meet which featured 312 runners, and CCJL included Duncan Cook (69th), Tyler Southworth (110th), Colin Reed (122th), Matthew Elmy (147th) and Tristan Davis (300th).
The elementary school runners included AJ Armstrong (116th), James Hawkins (118th), Boone Elrod (127th), Nick Foster (180th), and Gunter Pitts (150th). The boys finished 15th out of 19 teams, which included 232 competitors. The girls was represented by Maddie Reed (113th) and Georgia Hawkins (115th).
While on the high school level, the Lionettes advanced to state with a third place overall finish, while the Lions were eliminated with a fifth place finish in a very tough region at Camp Jordan in East Ridge.
"We are really excited, and we were hoping to make it this year," CCHS Lionette Alayna Reed said. "At first, we were really nervous, because we were not for sure if we made it. As soon as they announced it, we were screaming and jumping."

Besides facing the toughest competition in the region on a brutal course with a state berth on the line. The weather conditions were horrible with rain from the hurricane that hit Mexico last weekend, and the course turned into a mud bath. However, both teams used the bad weather to their advantage.
"We were covered from head to toe in mud," Reed said. "We made sure before we started our shoes were tied tight, if not we were going to lose them.
The Lionettes who made state included Hannah Whited (5th), Isabella Russo (20th), Alayna Reed (22nd), Elva Magana (26th), Samantha Gaither (27th), Tyger Kennedy (31st) and Flor Magana (34th).
While, the Lions missed advancing to state with a fifth place finish, they were led by Devin Gilpatrick (22nd), Justin Whited (26th), Austin Duggin (27th), Corey Seymour (28th), Reece Wisdom (39th), and Alex Sergouiano (41st).
"It was a sick part of my stomach about that, because those guys are good," CCHS head coach Marc Larson said. "They got the best average Top 5 running time that I had since coming to CCHS, and for them to do as good as they did this year and not make state it hurts a little bit. I know how hard they have worked, and they are good. It is an extremely good region."
The Lionettes will race at the TSSAA state meet at the Steeplechase course in Nashville on Nov. 7.