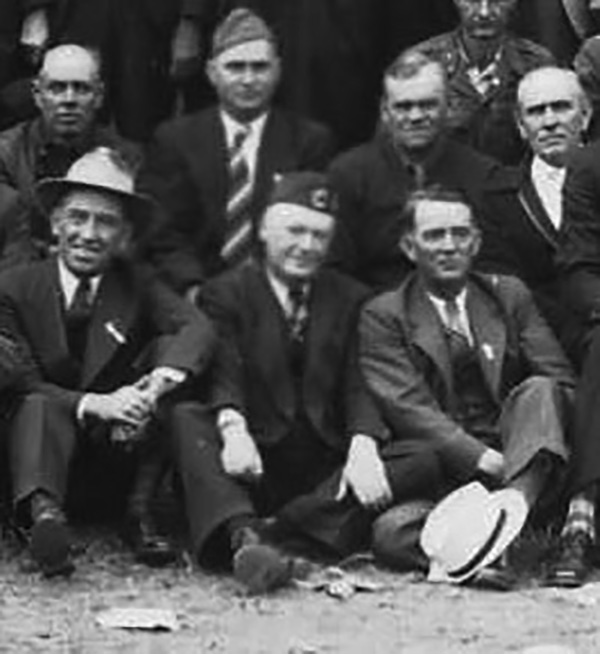 By COL. JIM STONE

The picture above is a group of World War I Veterans from Cannon County at a reunion held in Woodbury after the war. The picture was taken behind the old gymnasium at the old Woodbury Central High School.

When I saw the picture I immediately spotted my Uncle Charlie B. Stone, on the front row with hat on and a big smile as usual. He was the Woodbury Post Master from 1936 to 1952 when he died. And I quickly spotted another of my boyhood heroes, J. Barrett Melton, just to the right of Charlie Stone on the front row with his straw hat in his hand, this was the typical head gear during that time and even into the 30s,40s,and 50s.

These were the fortunate veterans from WWI. They survived and came home. Twenty-two of their fellow veterans gave their lives in WWI for their country. Their names are engraved on the monument in front of our Courthouse.

There are similar pictures of Veteran's reunions from WWII, KOREA, VIETNAM, IRAQ, AND AFGHANISTAN. Pictures of veterans who came home from the wars, the lucky ones. And, as I said, we are the fortunate ones, because we came home. All total, Cannon County has given 61 of her heroic and brave young men defending this great country and the freedom we all enjoy today.

This picture of these brave men got me to thinking. When a tragic event occurs, such as a flood, a tornado, a fire, we feel helpless, and think, what can I do to help, I am but one person. And on the other hand when a tragic event occurs to you, you realize that you need all of the help you can get.

I focused on the Hilton Stone American Legion Post 279. We have 110 members in this great organization. And we have strong, dedicated, and devoted leaders, and some of the greatest Veterans of this great country. These 110 members are only a few of the veterans in Cannon County, which is close to 1,100. If we all band together as brothers and sisters, just think of the possibilities. We would be taking care of ourselves as veterans, still serving, and doing good things for all of our Veterans, our Youth, and our Community; building a better Cannon County, a better Tennessee, and a better America. With strength in numbers when a tragic event occurs, we are there to help each other, and to help others in need. With strength in numbers we can do wonderful and marvelous things, there is no limits, when a large group of men and women put their hearts and minds together great things happen.

I hope and pray that all Veterans in Cannon County consider seriously about being part of a great organization and a great group of men and women. All veterans gave some, and some Veterans gave all. It is time to step up and continue to serve. The Veterans of Cannon County owe our continued service to those 61 heroic and brave men listed on the Veterans Memorial in front of our Courthouse. They gave all for their country, surely we can band together and pay forward for their sacrifices. These were young men, 18, 19, and 20 years old; they never got to enjoy a family, children, or grandchildren. God bless the Veterans of Cannon County, bless the American Legion Post 279 in Woodbury, bless the people of Cannon County, and bless the United States of America.