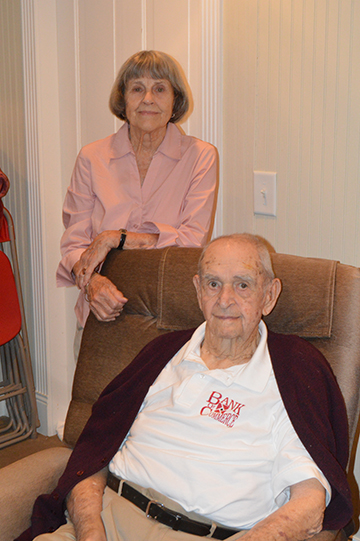 By DAN WHITTLE
Courier Contributor
Close friends often have their own special system of communicating.
Such a system likely prolonged the life of legendary Woodbury banker Bill Smith when he failed last December to make his normal early morning phone to call to his longtime friend and former bank associate Christine Dillon.
"For years, Bill has called me in the evening when he got in from his days' work," Miss Dillon communicated. "Then in the mornings, he would call me at 6:15, always punctual, so we could keep a check on one another."
Personal health drama unfurled the morning of Dec. 13, 2014, when Mr. Smith failed to dial his longtime friend's phone.
"When the clock turned 6:15 that morning and Bill had not called, I called him here at the Brevard House," Miss Dillon dialed back in time. "When I got no answer, I called Andy Duggin, who lives just down the road. I asked Andy to go quickly and check on Bill."
Earlier that morning, the 97-year-old civic leader had fallen in the hallway of his family's historic home located on Highway 70s inside Woodbury town limits.
"When Andy got to the house, he found Bill lying in the hall leading to the back door," Miss Dillon accounted. "He first called Steve (Bill's son) and then, Andy called me back."
The stroke victim was transported by ambulance to the hospital in Murfreesboro.
"I stayed in the hospital three days and then was transported to Adams Place for recovery and therapy," Mr. Smith recalled.
He stayed at Adams' Place care facility in Murfreesboro until March 26 but was happy to return home.
"I tell you, Woodbury had never looked so good," lifelong Cannon County resident Mr. Smith declared firmly.
He remains on a physical therapy regimen.
"Bill is working hard, having progressed now from four days a week of therapy, down to two days," noted Miss Dillon.
Mr. Smith granted his first public interview the wet rainy morning of Aug. 6.
Being at Adams Place was kind of like "old home week."
"I've been a life-long friend to the Adams family, and all three of Carl Adams' sons came to visit me at Adams Place," Mr. Smith shared. "But, there is no place like home."
It's (the late) Dr. J.F. Adams he credits most with his own success in life.
"I still have the letter Dr. Adams wrote me, inviting me to come to work for him at the bank," Mr. Smith traced back across his nine decades of life. His own father had worked at the bank before dying when young Bill was in the eighth grade.
"I credit Dr. Adams with being the one man most responsible for Woodbury being what it is today," he said.
Besides being an excellent physician, Dr. Adams was also a banker who helped bring jobs to rural Woodbury.
It was Dr. Adams who played a key role in recruiting the late businessman Sol Berger and his Colonial Shirt Factory, where 2,300 people worked at its peak, to Woodbury. Mr. Smith still maintains a connection to the Berger family. When Berger's daughters, Rene and Sandy, visited in Woodbury earlier this summer they put in a stop with Mr. Smith and Miss Dillon at the Brevard House.
"When Sol Berger brought Colonial Shirt Factory to Woodbury in the 1940s, it was partly due to recruitment by the Woodbury Lions Club that Dr. Adams helped found," Mr. Smith explained.
That Lions Club connection proved important to Mr. Smith as well with him maintaining a perfect attendance record for decades prior to the illness that hit in December 2014.
It was Dr. Adams who brought the first Holstein milk cows into Cannon County as he help bring Armour and Company, a dairy processing and cheese plant, to Woodbury in 1935. The plant, at its peak, employed some 300 people.

That brought Mr. Smith to his "first employment" days with Dr. Adams at age 18.
"Dr. Adams impacted all aspects of life in Woodbury. When he went out of state and brought back the Holsteins. With me having been born and reared on a farm, he asked if I'd mind going to the barn at 4 a.m. each day and milk the cows," Mr. Smith recalled. "When I got through milking the Holsteins, I'd wash the dirt and grime off and report for my duties at the bank."
He credits another "assigned duty" given by Dr. Adams with his own ultimate successful banking career in Woodbury and Auburntown.
"When I'd run out of job duties at the bank, Dr. Adams had me go door-to-door to individual homes throughout Cannon County to talk about bank services and what we could do to help them," Mr. Smith credits. "That put me into every home in Cannon County and taught me to always listen to the people, a trait I tried to pass on to future bank employees."
He described another fond bank memory: "The Bank of Commerce, I still love saying that name. I loved helping Auburntown keep its branch open long past when most small town banks had closed their doors. I loved that era of doing business in Cannon County, when a man's handshake was his bond. We had a sign painted on the bank's front door ... 'Sharing and Serving.' We took that very serious, for 'sharing and serving' is also Biblical."
"Longtime loyalty and friendships" remain important to Mr. Smith and have for years.
"Two weeks before Dr. Adams' passing (in 1964), I went to his house, to say 'thank you' one last time," Mr. Smith said.
State Rep. John Bragg was another lifelong friend.
"A few weeks before John passed, Christine prepared a picnic lunch for us to take on a tour of Cannon County," Mr. Smith shared. "We went driving out through the countryside of our beautiful county, to places like Burt and Bradyville. John and I really enjoyed our last trip together before we lost him."
That life-long friendship dated back to earliest school days in Woodbury, prior to the Braggs moving to Murfreesboro.
"John was a year ahead of me in school," Mr. Smith recalled. "He was the legislator most responsible for getting the nice modern four-lane highway built between Woodbury and Murfreesboro."
Mrs. Dillon shared a little-known political story at this juncture.
"John got the road built, but it was Bill who did the behind-the-scenes' politicking to get the four-lane named the 'John Bragg Highway' in the state legislature," she shared.
Prior to serving as Mr. Smith's executive secretary back at the bank, she had served in the same capacity for Dr. Adams.
"Together, Christine, with her 55 years and my 45 years, we share 100 years of banking experience in our hometown," deposited retired banker Smith.
As a founding member of Woodbury-based Middle Tennessee Mule Skinners' association that promotes the history and heritage of mules, Mr. Smith recalled his own earliest days "working the mules."
"I was reared on a farm, where Dad had several good mule teams," he added. "By age 10, I could work Dad's most-gentle team."
As recent as two years ago, Mr. Smith was still working with mules at age 95.
"I was passing by Mr. Bill's acreage there beside John Bragg Highway in 2013, and he and his mules were disking, preparing the ground to receive fertilizer and seeding," recalled fellow Mule Skinner member Danny Fraley of Rutherford County. "We talked for a long time there in the field ... before he took the reins and got his powerful mules back to disking that field. He's always been a remarkably strong man to be able to make mules do their jobs."
"I grew up behind a team of mules," Mr. Smith recalled. "Mules deserve to be remembered for their history of helping make America what it is today. For example, mules were used in constructing the first paved highway between Woodbury and Murfreesboro.
"My dad bought, sold and traded mules," Mr. Smith credited. "We worked and trained mules back there as part of dad's farming operation.
"I'd like to see a 'Mule Museum' be located here in Woodbury, paying respect for those strong work mules that brought our farm families and nation through the Great Depression."
Mr. Smith's link to his beloved Cannon County dates back to June 10, 1918 when he was born in the family home that serves the community today as the Smith Funeral Home.
He resides today in the historic Brevard House, built by his grandfather William Brevard. When Mr. Brevard died, the lovely two-story white framed structure left ownership of the family.
"I worked several years to buy the Brevard House back," Mr. Smith shared. "I'm very thankful to have the Brevard House back in our family."
And the community is thankful to have their "Mr. Bill" back at home.