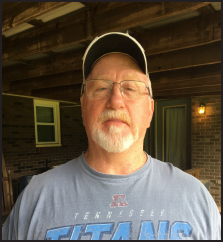 A few years shy of 50 years ago, the then Woodbury High football program, was on its last leg. Seven seemingly everyday high school student athletes, played a large role in demanding respect in the Cannon County football program. These seven students were referred to the Magnificent Seven. In 1974, the Lions went undefeated during the regular season. In a few short days, another member of that magical team will be inducted into the 2017 Cannon Courier Hall of Fame.

Randy Gannon, tackle and place-kicker, helped the Lions obtain the 10-0 standing during the regular 1974 season before falling to, the also unbeaten, Brentwood Academy. However, for the program to reach those heights, 43 years ago, it had to start from almost near death of the Lions Football Program.

"Very humbling," Gannon said. "As I told some of the guys I talked to, I played, I did nothing no different than any of the other guys. We played and we played to win."

During Randy's freshman year of 1972, 22 players came out for the Lions during spring practice. Close to the end of the season, only seven players remained with the rest on the injured list.

Gannon reflects, those seven players still practiced and assisted the team in preparing for the season by doing contact drills. Those seven were the only ones able to participate in those types of drills.

With a grin Randy Gannon states, "we did not see ourselves as anything special, just lucky to get through that spring,". "In looking back, I guess our secret weapon was we had a group from my freshman year following all the way to our senior year that hated to lose. It was every one of us, we hated to lose with a passion. It really showed in our numbers: 1-9-1 my freshman year, 7-3 my sophomore year, 10-0 my junior year, and 6-4 my senior year."

During this time frame the Lions were not a one-hit wonder, they gradually improved as time went on. For example, in 1973, the Lions finished 7-3 and won the Eastern Division of the old Duck River Conference. Gannon also served as kicker that season.

A year later, the Lions would have not gone undefeated without Gannon kicking them to victory. During the game at Cornersville, the Lions were down 8-6 with 22 seconds left in the game. The Lions drove the ball down the field reaching Gannon's kicking range for a potential game winning field goal.

Gannon made the first one; the referee called an offside penalty on Cornersville; Gannon had to make the kick again from 15 yards out with 19 seconds left in the game.

Gannon steps in with a famous kick and nailed the field goal. The Lions escaped with a 9-8 victory, and the road to perfection was still intact. The end of this season came with Gannon named to the Honorable Mention All-State Team.

"It was down in the north end zone, we were on the 1 yard line at the right hash-mark," Gannon said. "As a kicker, the goal post go from being 30 feet wide to five feet wide. You get that close. The first one was good by three inches. The offside call was made and moved it up a half yard. That five feet closed down to two and half feet. The second one honestly looked just as good as the first one. We wanted to win, and we were going to win."

In the opening round of the playoffs, the Lions fell to Brentwood Academy, 52-7. A season to remember, even to this day, for the Lions Football Program.

Since the beginning of the Cannon Courier Hall of Fame in 2011, several members of that magical season have been inducted including two of 2016 members, Dennis Banks and Bruce Daniel.

"We were brothers, and we still are brothers," Gannon said. "Like brothers, we are going to fight and argue, play tricks on each other, joke, and talk about each other; but, when it comes down to it, nobody better do nothing to my brother. I still feel like that from my freshman year to the guys I played with at Northeast. We had that bond. As coach (Mike) Mayfield would say at a drop of a hat 'we are going to fight for each other. We can do whatever we wanted to before then, but when that hat drops, we are going to fight for each other'. It is special bond."

Upon graduating from Woodbury High School in 1976, Gannon played football at Northeast Mississippi Community College in Booneville for a couple of seasons before an injury ended his playing career.

Gannon is still a player today. With the roles being somewhat different but very significant in Cannon County. On the field Gannon has served as a softball umpire and off the field a member of the JCs. Randy Gannon also has used his experience and support for the Cannon County school system in an administrative position while as a school board member. While working at Nissan, Gannon also spent four months living in Japan, but continued to keep his support and love of Cannon County alive.

Currently, he lives in Cannon County with his family and he continues to be visible at many community events and an avid Cannon County Supporter.

On May 23, Gannon will be recognized not only as the next member of 'that' special Lions team and their reach for the goal of perfection, but also a member of the Hall of Fame.