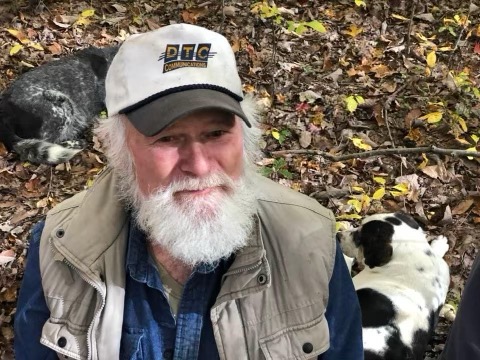 Ralph Juston Gunter of the Short Mountain community died peacefully at his home surrounded by family on September 19th, 2023. Born April 2nd, 1948 in Woodbury, Ralph was preceded in death by parents Alec Estes Gunter and Maggie Ferrell Gunter, brother Howard Gunter and sister in law Mary Gunter, as well as mother and father in law Audrey and Morris Meyers of Nashville,Tn.
He is survived by his wife of 39 years, Janis Meyers, son, Erik Gunter, and grandchildren, Hailee and Montana Gunter, brother Dee(Wanda) Gunter, nephews Shawn (Amber) Gunter, and Stefan(Liz) Gunter, as well as a host of grand nieces, nephews and cherished cousins.
Ralph developed an exceptional work ethic early, and he maintained it throughout his various careers. While he grew up on and loved the family farm, he wasn't interested in farming, but he loved anything he could drive or ride on whether that was the farm tractor or their mule. So he made a career out of being a heavy equipment operator who shod horses on the side, and later made horseshoeing his fulltime job. He could operate any piece of equipment and became legendary for his willingness to tackle the toughest of trail rides. Fortunately, he found an excellent chiropractor who put him back into shape so he could do it all over again. (Thank you, Trea Wessel and staff for getting him through any number of mishaps and injuries, treating him even after his stroke to relieve some of his constant pain and discomfort.)
He was known for his kindness, his ability to make friends wherever he went and for his sense of humor. You cannot think of him without smiling-- and he wouldn't want you to. While his
circle of friends were so dear to him and sustained him lovingly throughout the past year, his greatest joys were his son, Erik, and his grandkids, Hailee and Montana. They filled the last 18 years of his life with so much love, laughter, and hugs that his proudest title was "Grandpa." He richly deserved it.
In honor of Ralph's wish to be cremated and to forego funeral services, his family and friends will hold a Celebration of Life-- and oh what a life to celebrate! Time and place to be announced.
His family wishes to thank all medical professionals who helped him over the past year, with particular thanks to Compassus Hospice for making a very difficult time less painful.
Woodbury Funeral Home, 615-563-2311 or to leave condolences and memories for his family, please visit www.woodburyfuneralhome.net