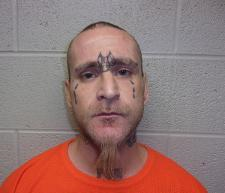 An inmate at the Cannon County Jail is facing new charges following an alleged incident there on Jan. 26.
Jeffrey Wilson Christy, Bradyville, was charged with vandalism of government property).
According to a complaint citation, Christy broke a door closer hinge off the door inside the cell he was housed in.
Before labor, the cost of the hinge is priced at $261.25.
Sheriff's Investigator Travis Dunavant filed the complaint.
Christy has a court appearance set for Tuesday (Feb. 5).