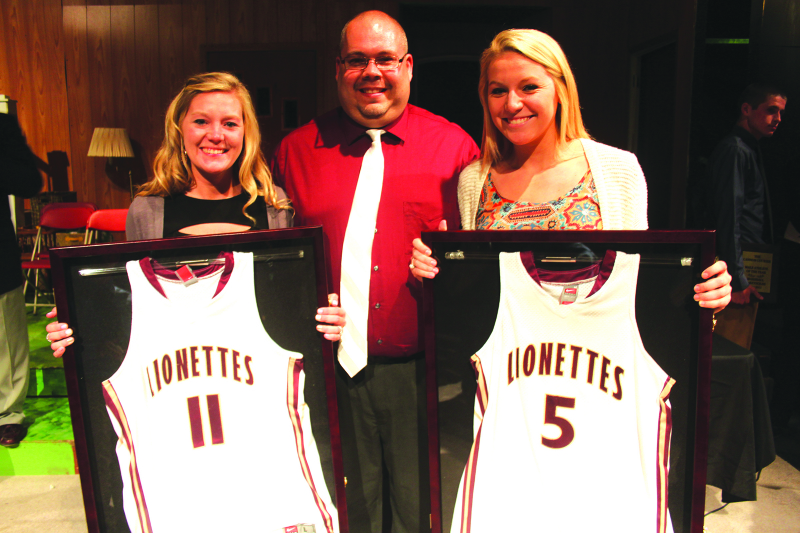 By David Hunter
dhunter@cannoncourier.com
A few weeks ago, the 5th annual Cannon Courier Hall of Fame and All Sports Banquet was held at the Arts Center of Cannon County. We honored several Cannon County high school student-athletes with several awards while inducting five new members to the Hall of Fame. During the next few weeks, I will be doing an in-depth profile on each of them, while also honoring those student-athletes who took home awards during the same night.
First Hall of Famer is former Cannon County High girls basketball coach Michael Dodgen.
On his final night on the job, Dodgen made it a memorable one in many ways. Not only was he inducted, but one of his legendary former players, Emily Sissom, was also selected for the honor. Also, the school decided to retire the jerseys of not only Emily, but her sister Abbey. It was a perfect night for Dodgen to end his tenure as coach of the Lionettes before moving to White County to take the same position.
"It is a unique thing, and special situations to have one of your players go in at the same time you did," Dodgen said a few weeks before the event. "(Emily) Sissom was a kid that was the foundation of when we started the success eight years ago. She was a part of the first group that got to go to the first region finals, eight years ago, and one of the first groups to go to the state tournament. To be able to share that moment with her family and my family it means a lot."
A Hall of Fame profile on Sissom will appear in a future issue of the Courier. As for Dodgen, when he took the Lionettes job 10 seasons ago, he knew the history of the program, including the team's 1989 state title, but it had not been to the state tournament since 1992. By the time he left, the program was back on top, including four trips to the state tournament out of the past five seasons.
"Cannon County is a special place to me, my family and kids for the simple fact when you have been somewhere for 10 years you establish a lot of friendships," Dodgen said the day after the ceremony. "I have been able to be the coach at CCHS, and have a great group of young ladies that have played for me over the last 10 years, which have built back a program to one of the top programs in Class AA and to be able to do that is rewarding in itself. It is so much about what these young ladies allowed me to accomplish as a coach, because of their work ethic and how hard they wanted to be good."
During his time at the helm of the Lionettes program, Dodgen amassed over 200 wins, and he helped coach two All-State players, one Miss Basketball, two District MVPs, and over 50 All-District players. However, some say his best coaching job came this past season as the Lionettes advanced back to the state tournament even though the team finished fifth during the District 8AA regular season.
Once the postseason started, CCHS used their winning tradition to defeat the top four teams in the district during both the district and region tournaments earning them a spot back at the Murphy Center for the 2015 TSSAA Class AA state tournament. Unfortunately, the dream ended in the quarterfinals by eventual state champion MLK.
"This year's team provided a lot of memorial moments," Dodgen said. "A lot of people counted this year's team out, and they did not think they could accomplish a lot. For this team to get back to the state tournament is great."
Those Lionettes were led by several award winners, including girls' basketball player of the year, Kelli Davis, Kristen Hale and Erin McReynolds. It was a memorial way for Dodgen to end his career at CCHS.
Of course, coaching runs in the family tree for the Dodgens, as the person who inducted him into the Hall of Fame, his father, Donald, taught him the game of basketball, especially the coaching side growing up. Currently, Donald is the athletic director at Knoxville Farragut High.
After getting his college degree at Tennessee Tech, Dodgen coached at Smith County for three seasons, which included an overall record of 52-45 and their first trip to the regions since 1989. In June 2005, he was named CCHS girls basketball coach, which he stayed until May of this year.
However, he admitted one of the toughest things he had to do was tell the Lionettes he was moving on. He has nothing but fond memories of his time here in Cannon County.
"One of the toughest things a coach has to do, especially when you have put everything into a program for 10 years, and you have watched these current players since junior pro, and grammar school basketball. I have watched them grow up, and turn into great young ladies. To have to tell them I was leaving was probably one of the hardest things I had to do. Everybody here has been nothing but wonderful to me and my family. It was a move and an opportunity to get closer to my family. It gets me close to that situation where I could help out there. It is one of the hardest things you have to do. Cannon County will always have a special place in my heart. I will always check in and watch in on the program from a distance. I appreciate everything everyone has done for me."
Cannon County High School Award Winners:
Girls Soccer- Livia Walker
Boys Golfer- Briar Jakes
Volleyball- Haylee Mooneyham
Girls Cross-Country- Hannah Whited
Boys Cross-Country- Marshall McReynolds
Football-AJ Daniel
Girls Basketball- Kelli Davis
Boys Basketball- Josh Ruehlen
Girls Tennis- Sarah Hickman
Boys Tennis- Austin Brock
Boys Soccer- Josh and Jake Walkup
Softball pitcher and player- Kristen Hale and Molly Williams
Baseball pitcher and player- Nick Vassar and Tucker Francis
Female Athlete of the Year- Erin McReynolds
Male Athlete of the Year- Marshall McReynolds
Female Publisher Cup- Hannah Faulkner
Male Publisher Cup- Marshall McReynolds
Lions Award- Marshall, Garrett, Erin and Kristen McReynolds
CCHS golf note- Head coach Ronnie Burks announced tryouts for the 2015 season will take place July 14 at the Smithville Golf Course with first tee at 1 p.m. It will be a nine-hole tryout, and be prepared to walk the entire distance.