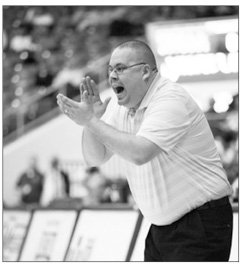 Michael Dodgen
Before stepping in as the current Cannon County High School girls' basketball coach a decade ago, the program had enjoyed a lot of success, including a state championship in 1989. However, Dodgen wanted to take the program to the next level, in which the Lionettes competed for state tournament berths on a consistent basics. So far, so good for Dodgen, who also doubles as the school's athletic director, has taken the Lionettes to the state tournament four out of the past five seasons. He has turned these young ladies into women both on and off the court.
"You got to have good players to buy in on what you do," Dodgen said. "As a coach you are only as good as your players are. The kids are the big thing behind most of this, because without them I would not be able to have success on the floor as much as we did."
For Dodgen, he has been a part of big moments during his time in Cannon County, but nothing will beat being a part of the Hall of the Fame.
"I guess it means I am getting old," Dodgen joked about being a part of this year's class. "It is a great opportunity to be in a group of former Hall of Famers that have done a lot for Cannon County High School and Cannon County, it means a lot. It has been a lot of work, and a lot of time. Everybody who has been in previous Hall of Fame classes have put a lot of time and effort into what they did during their time frame at Cannon County. To be considered one of the elite to come through there, and to be a part of that is an unbelievable experience."
During his time in Cannon County, the program has enjoyed a lot of moments on the basketball court, but some of his favorites include winning the first region title in a long time in 2009, and the following year advancing to the state tournament for the first time recently. This year's Lionettes also meant a lot to him considering nobody gave them a chance to advance to the state tournament, except them, and they still achieved the goal of going back to Murphy Center.